← Programs / Arts / Psychology (BA)
Program Summary
Psychologists study the mechanisms that underlie our thoughts, emotions and behaviours. They examine a diverse range of topics, such as how we think and learn, how we interact with others and how we can promote healthy development and wellness. This is accomplished by conducting research so that the knowledge gained can help us to better understand the human mind, enhance well-being and performance, and generate additional research questions.
All of our programs provide opportunities to explore psychology's major areas within the context of an active and diverse research environment. Our honours programs offer six concentrations for students wishing to focus on one of these major areas.
Cognitive Psychology
Developmental Psychology
Forensic Psychology
Health Psychology and Well-Being
Organizational Psychology
Social and Personality Psychology
More information on the concentrations can be found below.
The insights you gain from studying psychology will serve you throughout your life, in virtually any career. Psychology is offered as an Honours, Combined Honours or General BA program. Psychology is also available as a minor or as a Bachelor of Science Honours program.
The Carleton advantage
Carleton University's undergraduate programs in psychology are designed to provide you with a better understanding of the world, a deeper appreciation of the complexity and diversity of human behaviour, and knowledge of the principles of systematic and empirical investigation.
The insights you will gain from studying psychology will serve you throughout your life, in virtually any career. If you are interested in a career as a psychologist, our Honours programs prepare you for additional study at the graduate level.
A comprehensive curriculum
The psychology professors at Carleton represent all of psychology's major streams outlined below and have a wide range of teaching and research interests.
Personality and social psychologists study basic group, individual and organizational-level processes such as responses to discrimination, procrastination, happiness and deriving benefit from adversity, as well as applications to personal and social topics such as romantic relationships or the long-term effects of abuse.
Forensic psychologists deal broadly with the research and application of psychological knowledge to the justice system, such as understanding the development of criminal behaviour, the classification and rehabilitation of offenders, eyewitness testimony and police psychology.
Cognitive psychologists are interested in basic and applied processes related to memory, attention, perception, speech and language, decision-making and human performance.
Developmental psychologists study theoretical and applied issues in the development of children from early childhood through adolescence, such as shyness, relational aggression, body image in early adolescence and the development of language, literacy and mathematics knowledge.
Health psychologists study the psychological, social, and behavioural factors associated with health and illness, such as stress and coping, forgiveness, the effects of gambling, experiencing loss, employment transition and personality factors associated with wellbeing.
Applied Psychologists focus their efforts broadly on an examination of how psychological theory and an understanding of human capabilities can be used to solve practically-oriented, "real-world" problems, which is done in laboratory and field settings, including educational, business, government, military and health contexts.
The capital advantage
Ottawa, the nation's capital, is home to first-class medical facilities such as the Ottawa Hospital, the Children's Hospital of Eastern Ontario and the Royal Ottawa Hospital, which provides specialized mental health assessment and treatment for adults, adolescents and children with a mental illness.
The program
Bachelor of Arts (General and Honours)
Honours programs
If you are interested in becoming a professional psychologist, you should consider one of our Honours programs.
The Faculty of Arts and Social Sciences offers an Honours program leading to a BA (Honours) in Psychology. The Faculty of Science offers an Honours program leading to a Bachelor of Science (BSc) degree in Psychology. Both the BA (Honours) and the BSc (Honours) in Psychology require 20.0 credits for the degree; nine of these credits are from psychology. In addition to a number of core courses in fourth year, Honours students either design and carry out a supervised research thesis or complete an essay on a topic in psychology.
When you study psychology at Carleton, you will have an opportunity to explore all of psychology's major areas including social, personality, cognitive, health, developmental, applied and forensic psychology, as well as specialized topics such as attitudes, abnormal behaviour, perception and criminal behaviour. For students wishing to focus on one of these major areas, we offer concentrations in Cognitive Psychology, Developmental Psychology, Forensic Psychology, Health Psychology and Well-Being, Organizational Psychology, and Social/Personality Psychology.
Cognitive Psychology focuses on basic and applied processes related to memory, attention, perception, decision-making, human performance, and speech and language.
Developmental Psychology centres on the physical, social, and emotional changes that we experience across the lifespan, considering such topics as shyness, emerging adulthood, bullying, positive youth development, and the development of language, literacy and mathematics skills.
Forensic Psychology looks at the relationship between psychology and the justice system in order to improve our understanding of such topics as the development of criminal behaviour, the classification and rehabilitation of offenders, eyewitness testimony, and police psychology.
Health Psychology and Well-Being involves the study of the psychological, social and behavioural influences on health and illness, covering such topics as stress and coping, forgiveness, life-changing experiences, health decision-making and our relationship with nature.
Organizational Psychology looks at individuals and groups in workplace settings, examining issues such as occupational health and employee morale, with the ultimate goal of enhancing organizational effectiveness and individual well-being.
Social and Personality Psychology involves the study of the complex interplay between our characteristics and the environments in which we live, including a wide range of phenomena such as close relationships, procrastination, happiness and relationships between groups.
The BA (Combined Honours) in Psychology program allows you to combine your studies in psychology with studies in another discipline. There is also a minor available in Human Resources Management. It is designed to give psychology students additional skills in management, human resources, and marketing that are highly transferable to the workplace.
General program
Six of your 15.0 credits will be in psychology. You may choose your other courses from other disciplines of interest. The Bachelor of Arts (BA) provides a good foundation for occupations that deal with psychological issues, but is not intended to prepare you for a career as a professional psychologist.
Core courses
No matter which one of these programs you choose, your first year will include an introductory course that highlights what psychology offers and describes its basis as an experimental science. In second year, you will take courses in research methods, statistics, and specialized areas within the discipline. In third year, you will take courses that deal with specific areas relating to your own interests and will receive additional training in research methods and data analysis.
Co-op opportunities
Through co-operative education, Bachelor of Arts (Honours) students may gain applied knowledge in the workplace in a variety of settings including community agencies, government departments and the private sector.
First-year experience
First-year Seminars First-year BA students are strongly encouraged to include a First-year Seminar (FYSM) in their first-year course load. Our First-year Seminars will get you away from the lecture hall and give you the chance, in a small class of no more than 30, to discuss and debate topics with your classmates and your professors.
Future opportunities
The workplace
Many of our graduates wish to become professional psychologists. Most Canadian provinces, however, require you to have a PhD degree and be registered by a provincial college or board of psychologists before allowing you to use the professional designation of psychologist. Carleton's Honours programs in Psychology provide you with the foundation you need for graduate study leading to a doctoral degree.
What can you do with a degree in Psychology? Our students can also apply their knowledge of the discipline and their research, statistics, critical thinking and information literacy skills in careers such as human resource management, corrections, counselling, research, health services, early childhood education and more.
Graduate studies
Graduates of our program are well qualified to go on to graduate studies in a variety of fields including experimental psychology, clinical psychology, counselling, social work, education, criminology and medicine.
What students are saying about Psychology (BA)
---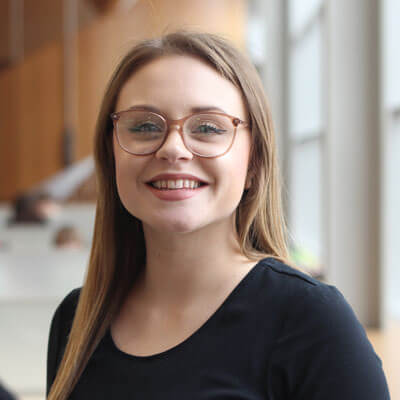 With its variety of concentrations, special topics seminars, peer mentorship program and hands-on learning experiences with community practicums and co-op options, Carleton's Psychology program is one-of-a-kind. Not to mention the phenomenal faculty and staff, research opportunities, and great selection of student support services that make for an unparalleled post-secondary journey.
Chelsea Medland, Psychology graduate