Online applications for September 2021 are open!
Find out how you can engage with us and learn about Carleton University
Take a virtual tour of Carleton campus
Looking for graduate degrees? Visit Graduate Admissions for international students
Admission Requirements
Find important information about applying to undergraduate studies at Carleton University. Learn about admission requirements, how to apply, application and document deadlines, applying for residence, keeping track of your application, what to do once you have been admitted and more!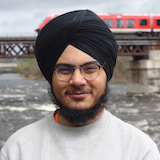 I genuinely feel that there are so many resources at the university and they are so well spread out that if you wanted, you could get access to anything…. I think being aware of what is available is really crucial if you want to maximize the full potential here at Carleton.
Raj, Bachelor of Commerce (Accounting) student
Stay Connected with Carleton
Sign up for Carleton 360
Get started in Carleton360 to receive tailored information on our programs, student services and community.
Take a virtual campus tour
Explore Carleton's beautiful riverside campus inside our virtual tour. More scenes coming soon!