Program Details
Carleton's English program ranges from some of the most famous names in English writing to lesser-known authors, taking into account regional, national and global perspectives. You will have a chance to discuss the pressing issues and enduring ideas behind literature, as well as examine the ways in which books spring from cultural contexts and fit into the arc of literary history. You will explore how British and Canadian literary traditions have evolved and how alternative, underground and non-Western voices trouble and enrich those traditions. You may take workshops in creative writing and drama, either as electives or in the context of the department's concentrations in Creative Writing and Drama Studies. We also offer a minor in Digital Humanities as well a minor in Drama Studies. Overall, the program is designed to develop students' abilities to analyze texts accurately, contextually and critically, to write clearly and persuasively in a variety of genres, and to conduct independent research—skills that are key to your future endeavors in the world beyond university.
The Carleton advantage
Carleton's English students study in a relatively small department where professors are accessible, and where there is a strong sense of community amongst the students themselves. Many of our students take advantage of the special opportunities we offer. They are able to study creative writing with published authors, get involved in the production of plays with experienced theatre directors, contribute to in-house magazines, and join the English Literature Society, which organizes activities ranging from literary readings to field trips to local theatres.
The capital advantage
Library and Archives Canada and the National Gallery of Canada both contribute to the cultural advantages of studying in the nation's capital. Ottawa also has a lively and long-established literary community that hosts writers' festivals, readings and workshops throughout the year. Carleton students are entitled to attend all Ottawa Writers Festival events for free, simply by showing their Carleton card.
Choosing the right program
All of Carleton's English programs are designed to introduce students to an exciting range of historical, geographical, and generic literary contexts.
Bachelor of Arts (Honours)
The four-year Bachelor of Arts (Honours) requires a minimum of 10.0 English credits of the 20.0 credits required for graduation.
Bachelor of Arts (Combined Honours)
The four-year Combined Honours BA allows students to major in English and another subject at the same time. Also known as a double major, the Combined Honours program requires a minimum of 7.0 credits in English in addition to the requirements of the second major.
Bachelor of Arts (General)
The three-year Bachelor of Arts (General) requires a minimum of 6.0 English credits of the 15.0 credits required for graduation.
Co-operative education
The English co-op program gives students a chance to find quality work terms with local businesses and public institutions, as well as in places elsewhere in Canada or even internationally. Most importantly, it gives our students a chance to get experience that can lead to permanent careers.
Creative Writing concentration
The Creative Writing concentration allows English students with an interest in creative writing to extend their participation in the many creative writing courses that they can take for credit towards their English degree. Students are eligible to register for the concentration only after the successful completion of 1.0 credit in writing workshops at the second-year level and 1.0 credit in writing workshops at the third-year level. Admission to all writing workshops is based on portfolio submissions. Details about the concentration can be found on the English department website at carleton.ca/english.
Drama Studies concentration
Our Drama Studies Concentration allows students to make the study of the history and criticism of drama, and to a lesser extent, dramaturgy, a substantive part of their BA program. It exposes students to a range of drama contexts and genres, and, within the limitations of a concentration, cultivates and nurtures originality, innovation, love of language and artistic workmanship. Course options include a drama workshop and a screenwriting workshop, and courses on Shakespearean, Greek and Roman, and world drama. A minor in Drama Studies is also available for non-English majors.
Minor in Digital Humanities
The minor in Digital Humanities allows students to explore how new media are changing every aspect of culture and society, including literature and the arts, libraries and archives, politics, law and education. Courses explore topics such as the fate of reading and writing in the age of twitter, blogs and e-books; how social media is altering our individual and collective identities; and how digital networks are changing popular culture.
Your first-year experience
In the first year, you will begin the process of developing skills in reading, analyzing and writing, as well as the process of acquiring knowledge of disciplinary objectives, practices and contexts.
First-year Seminars
First-year BA students are strongly encouraged to include a First-year Seminar (FYSM) in their first-year course load. Our First-Year Seminars give students the chance to discuss and debate topics in a small class consisting of a professor and around 30 students.
Although some FYSMs count as courses leading to a major, you do not have to choose a FYSM in your major discipline. Students are limited to one FYSM.
Recommended first-year courses
First-year English majors must take either ENGL 1000 or FYSM 1004, both of which are entitled Literature, Genre, Context. The introductory English course is designed to facilitate the transition from high school modes of reading, writing and thinking to those demanded by university-level English through the study of a range of texts and genres and through a focus on critical reading and critical thinking, solid research and documentation skills, and clear, effective writing.
The Department of English offers multiple sections of these courses in a given year, and there is much diversity in the materials chosen for study. Before choosing a section, students may consult individual course outlines for ENGL 1000 and FYSM 1004 at carleton.ca/english.
A sample first year
0 credit in Literature, Genre, Context (FYSM 1004 or ENGL 1000)
0 credit in any First-year Seminar (if FYSM 1004 not already taken)
0 credits in other electives
Second-year
In second year, you will take a combination of traditional literature (Canadian and British) courses and post-colonial literature (American, African, South Asian, Celtic and Caribbean) courses, a combination that provides students with a broad base from which to determine their own areas of interest in literature and to make informed choices about their upper-level English program. These core courses introduce students to important literary and cultural figures as well as to the social and political concerns of key literary periods and movements.
The Department also offers a range of second-year electives in topics such as science fiction, women and literature, and popular culture, as well as workshops in creative writing and drama.
Third-year
Third-year English consists of the last of the core survey courses, British Literatures II, and advanced courses in specific areas to which students were exposed in second year. Students may elect to take classes in literary theory or genre study, as well as classes focusing on specific historical periods or post-colonial topics. Third-year workshops in creative writing and drama are also offered.
Fourth-year
The specialized Fourth-Year Seminars are the capstone of the English Honours program in which groups of 15-18 students engage in a narrowly focused topic related to theory or genre, or to historical or national literature. Visit the English department website at carleton.ca/english for a full listing and description of all the English courses offered in a given year.
Future opportunities
The workplace
Studying English can be a rewarding and exciting challenge, but a degree in English is also a valuable first step into many different and exciting careers. Our students are trained to think critically and to write well, both of which are valuable professional skills in high demand in business, government and various professions. Students learn how to communicate clearly, to research effectively, to assemble and organize materials, to define problems and to propose solutions. Some of our graduates have become published authors, journalists, librarians, lawyers, social workers, clergy, correctional services officers, publishers' representatives, public relations officers, professional writers and corporation representatives, both in Canada and abroad.
Graduate studies
Graduates of any of our Honours programs in English are well qualified to go on to graduate studies in a variety of fields including English, cultural studies and social history. If you think that you may wish to pursue an advanced degree, you are encouraged to investigate graduate programs early in order to ensure that your English program is suited to meet the relevant graduate-level requirements.
Professional programs
Many professional programs, including law and teaching, encourage well-rounded applicants from a variety of backgrounds to apply. Carleton's Certificate in the Teaching of English as a Second Language (CTESL) prepares English majors for teaching English as a second language.
What students are saying about English
---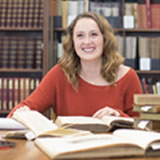 The students in the Creative Writing concentration are a very close-knit community, so your peers quickly turn into your friends and a larger network of writers you can share ideas with. Every class is filled with familiar faces and friends who are more than willing to assist with your work. Without the concentration, I'd be scribbling half-finished stories on bits of paper, instead of getting some writing published and sharing my voice.
Christine Lyons, English with concentration in Creative Writing student