Program Summary
Carleton's Department of French makes it easy to integrate French into your studies, whether you wish to major in French, expand your BA with a minor in French or enrol in a single course. The department's comprehensive approach allows students to benefit from language courses that are culturally grounded in the francophone world. Our course structure spans beginner to advanced levels, targets both oral and written proficiency, and focuses on students' full development as competent readers, speakers and writers. Courses in our BA programs in French offer students the opportunity to specialize in literary studies or French linguistics. You may engage academically with topics ranging from emerging voices in Quebec literature to writers from Africa and the Caribbean to the social dynamics of language. Exchange opportunities are available to students majoring in French.
The Carleton advantage
The French department has a comprehensive and multidisciplinary approach to the study of French. Besides language courses, ranging from beginner to advanced levels, the department offers courses in literature and linguistics, and affords multiple opportunities to explore various aspects of francophonie in depth.
Carleton programs in French are geared to the interests and needs of both English and French-speaking students.
The capital advantage
Located in the bilingual capital of Canada, Carleton University offers a special advantage when it comes to learning and using French. In Ottawa, French is not just a subject for the classroom — French is spoken on the street, in shops and on buses, on radio and television, at the movies and on the stage.
The program
In addition to the Bachelor of Arts (Honours) in French, which requires 20.0 credits, the Department of French offers a variety of undergraduate programs: Combined Honours (20 credits also), General (15 credits) and one Minor (4 credits).
Honours Bachelor of Arts
Students enrolled in Carleton's Bachelor of Arts (Honours) in French will be focusing on one of the two major disciplines in French Studies: literature and linguistics. By the end of their second year, students may choose to pursue one of these two areas in greater depth. Both areas will be examined through transnational or national perspectives. Course material covers Canadian, North American, Caribbean, European and African subject matter.
Combined Honours Bachelor of Arts
Students in this program can combine their studies in French with another discipline. They will fulfill the credit requirements for a combined program in both majors. The Combined Honours program in Journalism and French is available to students in the Bachelor of Journalism program.
General Bachelor of Arts and Minor
The Bachelor of Arts (General) requires 15.0 credits and is usually completed in three years. Carleton also offers a minor in French. This four-credit program is open to undergraduate students not enrolled in another French program.
Joint BA / BEd Program
For students interested in becoming teachers of French, a joint BA and BEd program in collaboration with Nipissing University is available to students taking a Major or a Minor in French who maintain the required grade-point average. Students do not need to apply for this program when they apply for admission to the BA program at Carleton. To obtain more information, interested students should contact the Department of French.
BGInS specialization
Students who enroll in the Bachelor of Global and International Studies (BGInS) program have the option of selecting a specialization in "French and Francophone Studies." Gain an understanding of the multiple varieties of spoken French and the diversity of French literatures across continents. Study how both are patterned globally through issues and contexts ranging from colonial and postcolonial histories, transnational contacts, cultural transfers and experiences of migration.
Placement in courses
Students interested in taking French language courses can do so no matter what their level of French may be. The web-based placement test ensures that students enroll in the appropriate course. To further ensure proper placement, students are also asked to complete an in-class written assessment during the first week of class. Attendance during the first week of term is therefore mandatory in order to ensure correct placement.
Co-op opportunities
A co-operative education component is also available for the French (Honours) program. Eligible students will be able to alternate periods of study with work placements in a variety of cultural, media, publishing, educational, public and private organizations, in and outside Ottawa. Co-op placements can help students gain practical experience, make connections and pay for their studies. Visit carleton.ca/cc for details.
International Exchanges and Explore programs
Regardless of the program they have chosen, students will vastly improve their language skills by studying and living in France or Québec. Carleton's extensive exchange programs are an ideal opportunity for students in French to live the language fully.
The Department of French has agreements with universities in Pau and Rennes, and students may also apply to the Ontario-Rhone-Alpes program, among others. The Department of French offers a bursary for students majoring in French who participate in international exchanges. To obtain more information, students should contact the Department of French or the International Student Services Office. carleton.ca/isso
Students can also participate in the Explore program, providing them the opportunity to live and study in Québec, and get credit counting towards their Carleton degree. Bursaries are available (from the Government of Canada). More information is available on the website myexplore.ca/en.
First-year experience
First-year BA students are strongly encouraged to include a First-year Seminar (FYSM) in their firstyear course load. The First-year Seminar will get students away from the lecture hall and give them a chance to study in a small group of around 30 students, and to discuss and debate topics with their classmates and their professor. The Department of French offers FYSM 1408, a First-year Seminar focusing on World Literature in French.
Future opportunities
The workplace
The Carleton French graduate holds a foundation to pursue careers in a wide range of fields, which in some cases may require further programs of study. Such fields include business, international affairs, education, translation/interpreting, editing, museums, fine arts, government and media, nongovernmental organizations and other areas.
Graduate studies
Graduates students in French are qualified to go on to graduate studies in a variety of related fields. They are regularly admitted to the MA program in French and Francophone Studies at Carleton, which can be completed either in one year or two years. Those who wish to pursue an advanced degree are encouraged to investigate graduate programs early in order to ensure that their program is suited to meet the relevant graduate-level requirements.
Professional programs
Many professional programs, including law, teaching and journalism, are interested in attracting well-rounded applicants from a variety of backgrounds. French provides a strong foundation for such programs.
What students are saying about French
---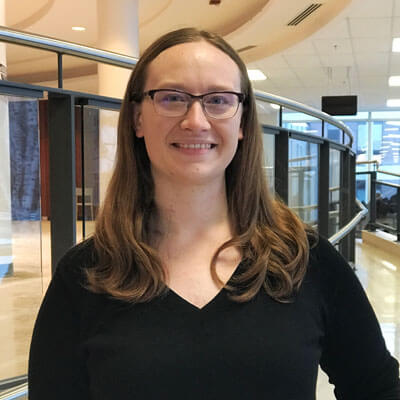 As an undergraduate student at Carleton, I had the opportunity to work as a Research Assistant. My work consisted of reading and transcribing French letters from the eighteenth century. For a student pursuing a Combined Honours degree in French and History, this complemented my studies perfectly!
Jeanette Schramm, French and History graduate