← Programs / Communication and Media Studies
Program Details
We live in a media society, but what exactly does this mean? How does a world saturated by media images, technologies and texts influence how we live and work? How is the ever-changing mediascape affecting our understanding of society and our ability to shape its future? These are some of the fundamental questions that a degree in Communication and Media Studies (BCoMS) will help you to answer
As a student in our program, you will choose from courses that cover the past, present and future of media; the uses and abuses of technology; the economics, politics and regulation of communication; the media in local and global contexts; the interface between culture, communication and identities; and the analysis of texts, images and rhetoric.
Our graduates have rewarding and productive careers in a variety of fields, from advertising and public relations to law, market research, policy development, teaching and more.
The Communication and Media Studies program at Carleton (previously the BA in Communication Studies) is offered as a four-year Honours program, and a minor program is also available. A co-op option is available for Honours students.
What students are saying about Communication and Media Studies
---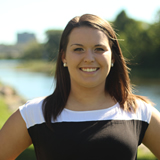 My interest in the field of public relations quickly led me to discover the Communication and Media Studies program at Carleton. The university's self-contained campus is the perfect place to study, and the co-op program has allowed me to combine academic training with paid, hands-on work experience. My placements in both the government and private sector have given me experience writing press releases, creating search engine advertising campaigns, and evaluating social media advertisements. Thanks to the skills I gained in the Communication and Media Studies program, I hope to pursue a career as a strategic communications consultant.
Amanda Chouinard, Communication and Media Studies student