← Programs / Arts / Women's and Gender Studies
Program Summary
Carleton's Pauline Jewett Institute of Women's and Gender Studies offers a program that engages students in critically understanding the key issues of feminist scholarship and their relationship to our lived experience. Students have the opportunity to engage in activist activities, study gender in courses across disciplines, and do a practicum placement with feminist groups from inside and outside the Carleton community. Central to our program is the consideration of how gender intersects with race, class, ethnicity, age, ability and sexuality. Students explore the practices and processes that impact on women's and men's lives in historical, socio-economic, cultural and political contexts.
A Post-Baccalaureate Diploma in Women's and Gender Studies is available for qualified students who have already completed an undergraduate degree.
The Carleton advantage
Diverse areas of research and expertise
Established in 1987, the Pauline Jewett Institute of Women's and Gender Studies at Carleton conducts research, sponsors workshops and speakers, and promotes discussion and debate among faculty and students across the campus and in the community.
Faculty members in various departments across the university are engaged in researching diverse areas concerning gender, including but not limited to:
women and the arts;
women and the legal system;
sexuality and sexual practices;
gender and international affairs;
the history of women; and
gender and the family.
In addition, Carleton University and the University of Ottawa jointly hold one of the five Research Chairs in Women's Studies granted to Canadian universities by the Secretary of State Women's Program in 1985. Carleton also hosts, in conjunction with the University of Ottawa and the International Development Research Centre, the Visiting Scholar in Feminist Perspectives on Globalization.
The activities of the Joint Chair and the Visiting Scholar are designed to enhance students' interest in gender and in international development. Incumbents organize panel discussions and symposia. They also offer courses in these topic areas.
The capital advantage
Located in Canada's capital, Carleton University is ideally situated to offer you unique research opportunities. As a student in Women's and Gender Studies, you will have access to the research facilities of:
the Canadian Women's Movement Archives;
Library and Archives Canada;
the Canadian Research Institute for the Advancement of Women; and
numerous federal government departments dealing with women's issues.
The program
Bachelor of Arts (General)
Bachelor of Arts (Honours)
Bachelor of Arts (Combined Honours)
The Bachelor of Arts (General) program requires a total of 15.0 credits and allows you to develop knowledge of the interdisciplinary field of women's and gender studies, as well as another arts or social sciences discipline.
The Bachelor of Arts (Honours) program requires a total of 20.0 credits and is for those students who want a comprehensive grounding in women's and gender studies. Students should choose this program if they are considering going on to graduate work in this field. The program also offers the opportunity to complete an Honours research project in this area of study.
The Combined BA (Honours) program requires a total of 20.0 credits and offers an in-depth exploration of the topics in women's and gender studies. You must also meet the requirements for a Combined Honours program in the other discipline that you choose to study.
Minor in Women's and Gender Studies
The Institute also offers a minor in Women's and Gender Studies. Typically this requires completing 4.0 credits in Women's and Gender Studies.
Core courses
Women's and Gender Studies students must take the following required courses as part of their program:
Introduction to Women's and Gender Studies is a survey course designed to provide you with an overview of the major issues and topics in women's studies. Topics include the social construction of femininity and masculinity, violence, sexuality, gendered representations, the treatment of women in the workplace and in education, women and the performing and visual arts, and women's health.
Intersectional Identities examines the ways in which gender, as a relation of power and social identity, intersects with (neo)colonialism, racism, poverty, ableism and heterosexism in a globalized world.
Activism, Feminisms and Social Justice offers a comparative, interdisciplinary examination of women's efforts to achieve social and political change in the modern era. Feminist Thought is a required 0.5 credit course for all third-year students in Women's and Gender Studies. This course uses an interdisciplinary approach in introducing students to emerging feminist literatures in the humanities and in the social, natural and applied sciences.
Feminist Research in our Contemporary World is the second required 0.5 credit course for third-year students. This course examines feminist methodologies and prevailing approaches to the construction of knowledge. Feminist epistemology, subjectivity and ethics in feminist research are central themes of the course.
Electives
You can choose electives from a wide range of courses from the Faculty of Arts and Social Sciences and the Faculty of Public Affairs to complete your program. Selected topics in Women's and Gender Studies are also offered through the Institute. Course topics have included:
women and health;
indigenous women;
women and violence;
gender, science and technology;
third-wave feminism; and
women and public policy
Work experience
Fourth-year Honours Women's and Gender Studies students can take advantage of practicum placement opportunities in public, private and nongovernmental organizations (NGOs) in order to gain valuable experience by applying their women's and gender studies training in the workplace.
First-year experience
First-year BA students are strongly encouraged to include a First-year Seminar (FYSM) in their first-year course load. Our First-year Seminars will get you away from the lecture hall and give you the chance, in a small class of no more than 30, to discuss and debate topics with your classmates and your professors. You will also get early and frequent feedback on class assignments and instruction in research, writing and study skills.
Although some FYSMs count as courses leading to a major, you do not have to choose a FYSM in your major discipline and students are limited to one FYSM.
A student may choose to take one of the Firstyear Seminars in Women's and Gender Studies as their first-year requirement for the program, but Introduction to Women's and Gender Studies is recommended.
Future opportunities
The workplace
An understanding of women and gender has become an important asset that can be offered to potential employers. Combined with another discipline, graduates bring a unique background to positions in:
labour relations;
government and the private sector;
education;
health and counselling;
community service;
law;
the arts; and
the media.
Graduate studies
The Honours and the Combined Honours BA program offers a solid foundation for graduate work either in women's and gender studies or in another discipline including Canadian studies, sociology, law, political science, English, history and cultural studies.
If you think that you may wish to pursue advanced studies, you are encouraged to investigate graduate programs early in order to ensure that your program is tailored to meet requirements at the graduate level.
Professional programs
Many professions, including law and teaching, encourage well-rounded applicants from a variety of backgrounds to apply. Women's and Gender Studies can provide a strong foundation for a number of professional programs and you are encouraged to pursue your interests in these fields after completing your undergraduate degree.
What students are saying about Women's and Gender Studies
---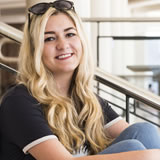 It was during my second year at Carleton that I found myself in search of an elective that would fulfill my thirst for new and engaging knowledge. After hearing several recommendations in favour of the Women's and Gender Studies program, I enrolled in my first introductory course. Little did I know that the Pauline Jewett Institute of Women's and Gender Studies would spark a passion that I did not know existed. In this program, I have taken courses focusing on history, intersectionality, activism, gendered violence and more, and my professors and teaching assistants never fail to create a comfortable, engaging, and safe environment for learning.
Toni Shedlowich, Women's and Gender Studies student