Program Summary
In this program, students will analyze responses to questions about identity, history, and the basis of political and ethical commitments that have been posed by the world's major religions. The study of religion nurtures in students a respect for the complex identities of others, their histories, and their cultures. You can study the history and literature of Christianity, Islam and Judaism; examine Asian religions such as Buddhism and Hinduism; follow the rise and fall of religious leaders and movements; or explore common themes in a variety of religious traditions, such as the environment, the role of women, or death and the afterlife. A degree in Religion will equip you for many career opportunities in our increasingly multicultural world, where religious beliefs play a significant role in human affairs and continue to affect local and global events. Minors in Islamic Studies and Jewish Studies are also available.
The Carleton advantage
As a non-sectarian, secular university, Carleton offers you an opportunity to examine critically how religious thought, values, and beliefs have influenced individuals and societies, and how they have both oppressed and given voice to women, ethnic minorities and the socially disadvantaged. Sometimes the very same religious text inspires some people to condemn those who are different and others to accept them.
You will benefit from the wide range of disciplines offered at the university that are central to the exploration of religious phenomena, including:
history;
philosophy;
literature and art;
sociology and anthropology; and
music and language.
Analyzing religion through these various lenses allows you to hone your critical and analytical skills, teaching you to become more precise and expressive in speech and writing, more discerning in your reading, and more understanding of human behaviour.
Faculty expertise
Carleton professors specialize in a range of religious traditions—Christianity, Judaism, Islam, Hinduism and Buddhism. Their research focuses on historical aspects of particular traditions, appropriate methods and approaches to understanding religion, past interaction and modern dialogue between religions, and contemporary religious thought.
The capital advantage
You will benefit from a rich array of resources in the National Capital Region. For example,
Library and Archives Canada houses important collections on the history of religion in Canada;
the National Gallery of Canada has an impressive collection of religiously inspired art;
the Canadian Museum of History is home to a vast collection of religious and cultural artifacts;
and
Saint Paul University in downtown Ottawa maintains a large library and extraordinary collection of scholarly works in religion.
The program
Bachelor of Arts (General)
Bachelor of Arts (Honours)
Carleton offers you several ways to make the study of religion part of your university experience.
The Bachelor of Arts (BA) in Religion is offered as a Bachelor of Arts (General) and a Bachelor of Arts (Honours) program. Both will help you develop a mature understanding of the myths, rituals, and systems of belief and practice in a variety of traditions; the rise and fall of religious leaders and movements; and the significance that religious traditions have had and continue to have in human culture and society.
The BA (General) in Religion requires 15.0 credits and is normally completed after three years of fulltime study. Your required courses include 6.0 credits in Religion.
The BA (Honours) program in Religion is a more intensive program requiring 20.0 credits, normally completed in four years of full-time study. Your required credits for this degree include 9.0 credits in Religion.
Combined Honours
If you wish to combine the study of Religion with another discipline, you could consider a Combined Honours degree. You will need 6.0 credits in Religion and you must meet the requirements for a Combined Honours in the other discipline.
Minor in Religion
If you are majoring in another discipline but have an interest in Religion, you may wish to consider completing a minor in Religion. The minor requires 4.0 credits in Religion.
Minor in Christianity Studies
Take a credit in a specified Religion survey course, half a credit in a survey course on ancient Judaism or Greco-Roman Religion, plus 3.0 credits in courses pertaining the study of Christianity from Religion, or —with the approval of the Religion coordinator—from another discipline.
Minor in Islamic Studies
Take a half-credit in a specified Religion survey course, plus 3.5 credits in courses pertaining to Islamic studies from Religion or—with the approval of the Religion coordinator—from another discipline.
Minor in Jewish Studies
Take a half-credit in a specified Religion survey course, plus 3.5 credits in courses with a Jewish theme from Religion or—with the approval of the Religion coordinator—from other disciplines.
Courses in Religion fall into three categories:
courses covering Judaism, Christianity and Islam that study the history and literature of these influential Western traditions;
courses that examine the worldview and evolution of Asian religions—especially Buddhism and Hinduism; and
courses that consider themes common to the major religious traditions—such as the role of women, death and afterlife, and religion and ethics—and ways in which scholars have tried to comprehend and compare religious phenomena.
First-year experience
First-year BA students are strongly encouraged to include a First-year Seminar (FYSM) in their first-year course load. Our First-year Seminars will get you away from the lecture hall and give you the chance, in a small class of no more than 30, to discuss and debate topics with your classmates and your professors. You will get early and frequent feedback on class assignments, as well as instruction in research, writing and study skills. Although some FYSMs count as courses leading to a major, you do not have to choose a FYSM in your major discipline.
Future opportunities
The workplace
The study of religion provides broad intellectual training and an understanding of a wide range of human cultures. Both of these assets are attractive to future employers.
It is increasingly recognized that a Bachelor of Arts degree is fine training for, and an indicator of, future success in many different kinds of careers. A BA will give you research, analytical, organizational and communication skills that are highly transferable in our knowledge-based economy.
Graduate studies
Graduates of our program are generally well qualified to go on to graduate studies in a variety of fields including religion, sociology and philosophy.
If you think that you may wish to pursue an advanced degree, you are encouraged to investigate graduate programs early in order to ensure that your program is suited to meet the relevant graduate-level requirements.
Professional programs
Many professional programs, including teaching, social work and law, encourage well-rounded applicants from a variety of backgrounds to apply.
Religion provides a strong foundation for such programs, and you are encouraged to pursue interests you may have in these fields after completing an undergraduate degree in Religion.
What students are saying about Religion
---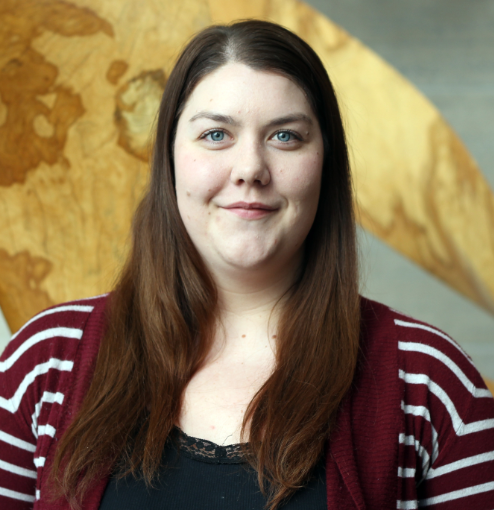 I never in my life imagined meeting so many experts on a variety of different religious traditions, yet I found all faculty members are so approachable and willing to talk about their respective fields of expertise. The small size of the program was also a draw to me, as I was able to get to know many of my professors well, and therefore felt more comfortable approaching them for help. My studies in Religion at Carleton have been extremely important in shaping how I view the world, and have given me the tools I will need in the workplace.
Dayna Murko, Religion student