← Programs / Commerce / Management
Program Summary
Develop employer-valued skills and experience in managing and understanding people and their work relationships at individual, group and organizational levels.
Prepare for careers in general management, management consulting, training and development, employee relations and strategic human resources.
What students are saying about Management
---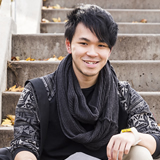 The Bachelor of Commerce has been a game changer for me. I came in knowing there was a world out there, but wasn't sure where I fit in. Now I'm walking out with relevant work experience and know my strengths in business.
Anthony, Bachelor of Commerce student