Program Summary
Carleton is home to the oldest and largest BA program in law in Canada. In the program, you will acquire a strong understanding of the dynamics of law, including its rules, agents, institutions and power structures. You will study legal theory and its application in everyday life and you will be taught by award-winning researchers and extensively published professors. Carleton's proximity to Canada's important public institutions, such as the Supreme Court of Canada, Parliament and the Department of Justice can lead to unique work and volunteer opportunities for our students. As an Honours student, you will have the choice of a concentration in Law, Policy and Government; Business Law; or Transnational Law and Human Rights.
Co-op options are available for qualified students in Law, Policy and Government and Business Law. A study-abroad option is also available, as the Department of Law and Legal Studies participates in an innovative exchange program with Sheffield Hallam University in the U.K.
The Carleton advantage
Carleton University is home to Canada's premier legal studies program. We offer the most comprehensive Bachelor of Arts (BA) program in Law in the country. Our programs reflect the growing demand for legal studies outside the professional LLB (Bachelor of Laws), by placing law and legal issues within a social context.
Our courses move beyond the study of legal rules to examine what we know about the law and how it works in our society. You will acquire knowledge of the underlying dynamics of law, including an in-depth understanding of its rules, agents, institutions and power structures.
Studying law in all these different facets is what defines the strength of Carleton's programs.
You will be taught not only by experienced, award-winning professors with a keen understanding of the law but also by seasoned professionals with extensive experience who work with us as part-time instructors and are drawn from federal departments, government agencies, Bar associations and private-sector organizations in Ottawa.
You also will have access to online legal materials and databases available to the legal profession.
The capital advantage
Carleton's proximity to Canada's important legal institutions, including the Supreme Court of Canada, the National Library, Parliament and the federal departments of Justice and Public Safety, gives you access to legal decision makers and policy makers and to research holdings unavailable anywhere else in the country. You will also have the opportunity to work with national and international organizations headquartered in Ottawa.
The program
Bachelor of Arts (General)
Bachelor of Arts (Honours)
Bachelor of Arts (Combined Honours)
The Department of Law and Legal Studies at Carleton offers a choice of undergraduate programs.
The Bachelor of Arts (General) requires 15.0 credits, normally completed after three years of study.
The Bachelor of Arts (Honours) program provides a more rigorous and extensive study of law, and requires 20.0 credits for completion. You can combine Law with another discipline, including our interdisciplinary program in Human Rights, for a combined Bachelor of Arts (Honours) degree.
Students in the Bachelor of Arts (General), Bachelor of Arts (Honours) or Bachelor of Arts (Combined Honours) may earn the notation Mention : Français on their diploma by completing part of their program in French.
We also offer a concentration in Law for students in the Criminology and Criminal Justice program, as well as a four-credit minor in Law for students in other disciplines.
Concentrations and co-op opportunities
Focusing your studies in a particular area and integrating your academic work with hands-on experience can give you an important edge in today's competitive job market.
Students in any of the Honours Law programs can choose one of three concentrations, two of which include a co-operative education option.
The concentration in Law, Policy and Government should be considered if you are interested in a career in the government or with an organization that is directly affected by government decision-making. A co-op placement with this concentration may include work within a government department or non-governmental organization, such as an advisory board or commission.
The concentration in Business Law is for those interested in how the legal environment affects business and non-profit organizations. A co-op placement allows you to apply your academic knowledge in a business environment.
Our concentration in Transnational Law and Human Rights offers students the opportunity for in-depth consideration of the potential (and limits) of law in addressing human rights issues both in Canada and internationally, while also considering the development of transnational approaches to law and human rights.
Study abroad
The Department of Law and Legal Studies participates in an innovative exchange program with the Division of Applied Social Science, Faculty of Development and Society, at Sheffield Hallam University in the United Kingdom.
Third- or fourth-year Bachelor of Arts (Honours) students may study for a year within this professional school firmly rooted in the social scientific study of law. Students who successfully complete six units in the LLB (Honours) program in Sheffield will receive 5.0 credits toward their Carleton BA (Honours).
First-year experience
First-year BA students are strongly encouraged to include a First-year Seminar (FYSM) in their first-year course load. Our First-year Seminars will get you away from the lecture hall and give you the chance, in a small class of no more than 30, to discuss and debate topics with your classmates and your professors. You will also get early and frequent feedback on class assignments and instruction in research, writing and study skills.
Although some FYSMs count as courses leading to a major, you do not have to choose a FYSM in your major discipline.
Future opportunities
The workplace
The overwhelming majority of Carleton Law graduates are employed in professional, managerial or administrative positions, including:
federal and provincial administration
policy analysis
welfare and social work
social sciences
education
health care
legal occupations
Legal studies is the basis upon which you can build any number of careers today—you will benefit from a better understanding of both the law and its place in our society, as well as its influence in shaping relationships among individuals and between citizens and the state.
For example:
criminologists, security consultants, police and correctional workers need to know the institutions, processes and social context of criminal law;
producers and television station managers need to know about content regulations;
educators and communicators require knowledge of freedom of expression and copyright regulations, and privacy acts;
intellectual property rights, licensing and electronic commerce are concerns of business and high-tech industry managers;
policy advisors and people who work in nongovernmental organizations (NGOs) need to know the laws relating to their areas of concern and need to be equipped to negotiate the legislative process;
the executive director of a women's shelter should be familiar with criminal law, family law, child welfare and employment law;
bankers and financial analysts need a thorough understanding of commercial law subjects; and
government workers, industry leaders, urban planners and environmentalists need to know about environmental law and regulations.
Graduate studies
Graduates of our program are well qualified to go on to graduate studies in a variety of fields, including legal studies, political science, public administration and international relations.
If you think that you may wish to pursue an advanced degree, you are encouraged to investigate graduate programs early in order to ensure that your program is suited to meet the relevant graduate-level requirements.
Professional programs
Many professional programs, including law, teaching, social work and business, are interested in attracting well-rounded applicants from a variety of backgrounds. Law provides a strong foundation for such programs.
What students are saying about Law (BA)
---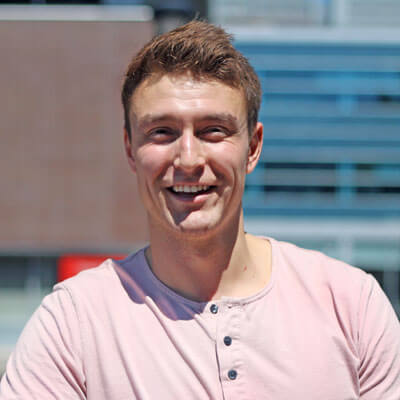 Not only were my courses taught by actual lawyers and distinguished academics, but I was also able to apply what I learned in classes during a placement at a downtown law firm. The staff in the Department of Law and Legal Studies supported me in this endeavor by working with me to customize course criteria, which allowed me to receive course credit for my contributions to cases. I also participated in Carleton's study abroad program, and I traveled to and studied in Melbourne, Australia.
Derek Mastin, Law student