← Programs / Global and International Studies / Latin American and Caribbean Studies
Program Summary
(Multidisciplinary; History)
The geopolitical region of Latin America and the Caribbean has emerged as a key area of interest for Canadians. The growing ties between the two regions is shown in the rise in trade and investment relations as well as migrant flows. Furthermore, the complex biodiversity, history and cultures of the area invite new approaches to understanding sustainable development, democracy, human rights, cultural diversity and new forms of cooperation. This specialization addresses all of these issues, and will provide you with an understanding of this dynamic and culturally rich part of the word and its engagement in the global arena.
Minor offered through the History Department: Latin American and Caribbean Studies Minor.
What students are saying about Latin American and Caribbean Studies
---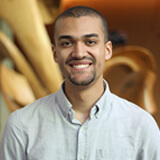 I chose the Bachelor of Global and International Studies (BGInS) degree because of its multidisciplinary approach to creating global citizens. In the BGInS degree, I am surrounded by students interested in law, global development, politics and the environment who are linked together by our passion for international relations. Carleton is located in Ottawa, the nation's capital, and this proximity to the creation of Canadian federal policy has allowed me to begin practically applying my studies at the Library of Parliament.
Keean Nembhard, Bachelor of Global and International Studies student