← Programs / Global and International Studies / Globalization and the Environment
Program Summary
(Multidisciplinary; Department of Geography and Environmental Studies)
Are you interested in global environmental issues like climate change? This specialization looks at global processes and their impact on the environment, focusing attention on the emergence of the environment as a key theme of globalization. You will have the opportunity to develop an integrated understanding of global environmental issues, processes, patterns and solutions, as well as a skill set for conducting a critical analysis of current approaches to these issues and methods to implement and effect change. You will examine global biophysical systems and human-environment interactions, and you can also choose areas of interest within the specialization (such as human geography, urban networks, global environmental politics, sustainability or environmental change).
What students are saying about Globalization and the Environment
---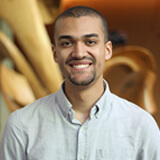 I chose the Bachelor of Global and International Studies (BGInS) degree because of its multidisciplinary approach to creating global citizens. In the BGInS degree, I am surrounded by students interested in law, global development, politics and the environment who are linked together by our passion for international relations. Carleton is located in Ottawa, the nation's capital, and this proximity to the creation of Canadian federal policy has allowed me to begin practically applying my studies at the Library of Parliament.
Keean Nembhard, Bachelor of Global and International Studies student