← Programs / Global and International Studies / Global Inequalities and Social Change
Program Summary
Study global inequalities and social change, combining theoretical and applied approaches. Gain an understanding of multiple dimensions of inequality through topics such as poverty, racism, colonialism and gender. Acquire knowledge of various forms of resistance to oppression, including social movements and transnational solidarity.
What students are saying about Global Inequalities and Social Change
---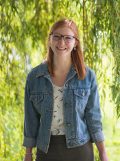 My time in the Bachelor of Global and International Studies (BGInS) program has been extremely beneficial for not only my academic growth, but also for making human connections. I have felt extremely well-supported and intellectually challenged both inside and outside of my specialization. My experience gave me the confidence to pursue an Honours Thesis with the Department of Sociology in my final year, which has been a hands-on way to prepare for graduate school or social research positions in the workforce.
Becky Pottruff, Global Inequalities and Social Change