← Programs / Arts / Geography (BA)
Program Summary
The BA Geography program at Carleton focuses on human and environmental geography, exploring and analyzing a wide range of topics such as local food systems, urban poverty, cultural landscapes, adaptation to climate change and natural resource management. Students in the BA Geography (Honours) program may take a concentration in Physical Geography or Urban Geography. Our professors have extensive expertise in social, political and cultural geography; resource management and environmental assessment; and the study of physical processes of the Earth's vegetation, climate, water and soil systems. Field courses, workplace opportunities (1 day a week practicum; full term co-op), and training in tools like geographic information systems, remote sensing and cartography also provide an opportunity to gain practical experience while you study. A Bachelor of Science in Physical Geography is also available.
The Carleton advantage
During your studies in Geography at Carleton, you will develop a combination of skills that will make you highly employable. This program will enable you to analyze problems thoroughly, to use computers effectively, to tackle issues of varying complexity, to work productively in teams and to communicate professionally.
Our professors have extensive expertise in 1) human geography, including urban environments and issues, community engagement and activism, impacts of resource extraction and environmental change on communities, gender issues, globalization, geopolitics, and economic, historical and cultural geography; 2) physical geography, including resource and environmental assessment, soil science, geomorphology, permafrost, biogeochemistry, climatology, hydrology and biogeography; and 3) geomatics, including Geographic Information Systems (GIS), remote sensing and cartography. Many professors also have regional expertise in various places such as the Arctic and Latin America.
Hands-on learning
Our interest in your future has led us to build practical learning experiences into our programs. As a BA (Honours) Geography student, you will gain valuable field experience by participating in the Honours Field Course in third year. Geography Honours students also have opportunities for workplace experiences through our practicum courses in:
Private industry (e.g., waste management, environmental assessment and monitoring, geomatics companies);
Government departments, such as the Canada Centre for Mapping and Earth Observation, Agriculture and Agri-Food Canada, Natural Resources Canada, Environment Canada, National Defence, Foreign Affairs and International Development; and
Non-governmental organizations (NGOs) related to environmental, social and cultural issues.
Co-op opportunities
In addition to a practicum program, the Department of Geography and Environmental Studies offers co-op opportunities for eligible Honours students. Co-op jobs are paid, full-time positions that give students a chance, over three four-month work terms, to put their learning into practice and gain new skills and contacts. Graduating with co-op work experience can give you an advantage in today's competitive job market.
Extensive learning and research facilities
You will have access to the latest in teaching laboratories at Carleton, including computer labs for GIS, remote sensing and cartography and labs for physical geography courses. In addition, the Carleton University Library houses extensive resource materials for geographers, including a collection of over 166,000 digital and paper maps.
The capital advantage
Ottawa is rich in study resources vital to the geographer, such as Library and Archives Canada, the Canada Centre for Mapping and Earth Observation, Statistics Canada, and other federal government departments. Ottawa's extensive research and information technology activities also provide exciting opportunities.
The program
Bachelor of Arts in Geography (Honours and General)
The Department of Geography and Environmental Studies offers programs leading to the Bachelor of Arts (Honours and Combined Honours) and the Bachelor of Arts (General) in Geography. These programs focus on human geography, including such topics as urban geography; social science perspectives on the environment, natural resources, sustainability, and climate change; and globalization, health, culture and development.
Bachelor of Arts (Honours) in Geography with a Concentration in Physical Geography
Physical Geography is the study of the nature and processes of the Earth's surface and atmosphere, including climate and climate change, geomorphology and landscape formation, soils, permafrost and natural hazards, as well as their importance to society and society's impact on these natural systems. You will gain field and laboratory experience, and learn the specialized techniques (including Geomatics) for collection and analysis of environmental data.
The BA (Honours) Geography degree with a Concentration in Physical Geography includes an integrated set of human and physical geography courses.
Bachelor of Arts (Honours) in Geography with a Concentration in Urban Geography
The Department of Geography and Environmental Studies offers a Concentration in Urban Geography for students in the BA Geography (Honours) program. This concentration allows students to focus their program on the study of cities and urbanization. Courses in the concentration explore important urban issues such as: inequality, discrimination, spatial justice, colonialism and settler cities, social movements and change, housing and homelessness, migration and security, urban planning and governance.
Honours field camp and research project
As an Honours Geography student, you will gain valuable field experience by participating in the Honours field course in third year. You will also have the opportunity to develop a research project in your area of interest. Fourth-year Honours research courses allow you to work one-on-one with a faculty supervisor, developing an area of independent research. You will graduate with a defined area of expertise, as well as valuable research experience.
First-year experience
BA students are strongly encouraged to include a First-year Seminar (FYSM) in their first-year course load. Our First-year Seminars will get you away from the lecture hall and give you the chance, in a small class of about 30 students, to discuss and debate topics with your classmates and professors. You will get early and frequent feedback on class assignments and will work on research, writing and study skills. Although some FYSMs count as courses leading to a major, you do not have to choose a FYSM in your major discipline. Currently, there are three First-year Seminars in Geography: Sustainable Environments, Social Justice and the City, and Location is Everything.
Following first year, Geography courses become more prominent in your course load, with specialization courses beginning in third year.
Future opportunities
The workplace
As a geographer, you will have a strong social and natural science base that makes a range of career possibilities available to you. Here are some positions that have been secured by our recent graduates:
Urban recreation planner;
Geomatics analyst;
Transportation planner;
Environmental scientist or consultant;
Coastal geomorphologist;
Agriculture researcher;
Waste management coordinator;
Resource planner;
Community services manager; and
International development worker.
Graduate studies
Graduates of any of our Honours programs in Geography may also be eligible to go on to graduate studies in a variety of fields, including Physical Geography (MSc), Human Geography (MA), Land Resource Use, Management and Appraisal (MA or MSc) or Geomatics (MA or MSc).
If you are considering an advanced degree, you are encouraged to investigate graduate programs early in order to ensure that your Geography program meets the relevant graduate-level requirements.
Professional programs
Many professional programs, including law and teaching, encourage well-rounded applicants from a variety of backgrounds to apply. Geography provides a strong foundation for such programs, and you are encouraged to pursue interests you may have in these fields after completing an undergraduate degree.
What students are saying about Geography (BA)
---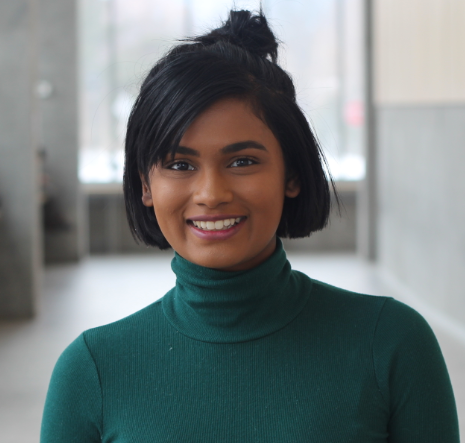 From field courses to my undergraduate thesis, the Geography program helped me develop both qualitative and quantitative research skills. Aside from the valuable skills the program taught me, I loved that I was able to choose a concentration that fit my interests: cultural geography. I also had the opportunity to complete a field placement with TreeFest Ottawa, in which I presented my findings to a local city councilor!
Shania Mahendran, Geography student