← Programs / Science / Biology (BSc)
Program Details
Biology in the 21st century is among the most diverse and exciting of the sciences. Many of the challenges we face as a society, from climate change to the development of novel health therapies, involve biological solutions. As a Carleton Biology student, you will gain broad experience through core science courses and options that suit your individual interests and needs.
The Biology department offers Bachelor of Arts and Bachelor of Science degrees, the combined program in Biology and Biotechnology and several interdisciplinary joint programs with other departments and with the College of the Humanities.
The Bachelor of Science in Biology offers Honours, Combined Honours, Major and General programs. A minor program is also available.
The Biology department's belief in the value of experiential learning ensures students in the BSc (Honours) program in Biology will have extensive opportunities to learn in lab-based environments and may choose to specialize in one of four concentrations: Physiology; Ecology, Evolution and Behaviour; Molecular and Cellular Biology; and Health Science.
What students are saying about Biology (BSc)
---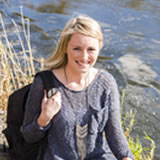 The research and training opportunities I have been afforded while an undergraduate student in biology have allowed me to become an informed and knowledgeable environmental biologist. Not only have I been able to work on projects I am truly passionate about, but I have also been able to work directly with an industry partner to solve real world problems. I think the best part about my experience in research so far is the fact that our research team is so diverse, covering various sectors and expertise, which provides me with an appreciation of the value of interdisciplinarity.
Brittany Sullivan, Biology student with a concentration in Ecology, Evolution and Behaviour