← Programs / Science / Biology (BSc)
Program Summary
Biology in the 21st century is among the most diverse and exciting of the sciences. Many of the challenges we face as a society, from climate change to the development of novel health therapies, involve biological solutions. As a Carleton Biology student, you will gain broad experience through core science courses and options that suit your individual interests and needs.
The Carleton advantage
Laboratory, independent research and field course opportunities
At Carleton, field and laboratory experiences are an integral part of Biology courses. All Honours students have the opportunity to develop research projects, working alongside a faculty advisor. As a result, you will cultivate an extensive repertoire of laboratory and field skills. You will graduate with both a defined area of expertise and valuable experience. In addition, you will be able to choose optional, intensive field courses where you live on location.
Research facilities
The biology department is well-equipped with the latest technology, including a mass spectrometer; fluorescence and light microscopes; cell, tissue and bacterial culture facilities; a wide range of molecular biology equipment; sophisticated electronic sensors for physiological and behavioural studies; and computer laboratories. The Nesbitt Biology Building, which serves as the central hub of the Biology program, houses controlled-environment rooms and growth chambers as well as extensive greenhouses. The National Wildlife Research Centre laboratories are also situated nearby on Carleton's campus.
Co-op opportunities
The Bachelor of Science (BSc) Honours program in Biology includes a flexible co-operative education (co-op) option. Students can gain at least 12 months of practical work experience in settings such as government laboratories, Environment Canada, biotechnology companies and museums in the Ottawa area.
The capital advantage
Ottawa is home to one of the nation's most significant clusters of companies conducting research in medical, agricultural and environmental biotechnology. Several government departments based in Ottawa are involved with the research that leads to environmental legislation and regulations. Collaborations with these organizations, as well as with the National Capital Commission, national museums and the National Research Council Canada, will provide you with an unparalleled background for your study in Biology.
The program
At Carleton, most Biology programs are offered as a Bachelor of Science (BSc) program, though we do offer a Bachelor of Arts (BA) in Biology and a Bachelor of Humanities (BHum) in Humanities and Biology.
Bioinformatics – BSc (Honours)
Biology – BSc (Honours)
■ Concentration in Ecology, Evolution and Behaviour
■ Concentration in Health Science
■ Concentration in Molecular and Cellular Biology
■ Concentration in Physiology Biology
Biology – BSc (Major and General)
Biology – BA (Honours, Combined Honours and General)
Biology and Biotechnology – BSc (Honours)
Biology and Earth Sciences – BSc (Combined Honours)
Biology and Physics – BSc (Combined Honours)
Neuroscience – BSc (Combined Honours)
Humanities and Biology – BHum (Combined Honours)
Minor in Biology
Bachelor of Science program in Bioinformatics
Bioinformatics involves the use of techniques from computer science to solve biological problems such as gene identification, protein structure determination, and gene expression profiling. You will take courses in several areas including bioinformatics, biology, biochemistry and computer science.
Bachelor of Science programs in Biology
Our science programs concentrate on courses in biology and other sciences, while allowing for a limited number of optional courses in the arts and social sciences. The four-year Honours program is strongly recommended if you are planning to continue studies at the graduate level, and is particularly appropriate for entry into professional programs in medicine, pharmacy, physiotherapy, veterinary sciences or teaching or for careers in biology. Choosing an Honours concentration allows you to structure your program according to your particular interests, but students may still pursue a Bachelor of Science (Honours) in Biology without concentrations.
The Major program is similar to the Honours program in that it requires the completion of 20 credits, but it involves fewer laboratory-based classes and does not require the completion of an Honours Thesis research project.
The department also offers a number of combined programs.
■ The Honours program in Biology and Biotechnology offers a basic grounding in biology and biochemistry with additional specialization in courses related to biotechnology.
■ The Combined Honours program in Biology and Earth Sciences offers another group of interdisciplinary areas of exploration such as paleontology, biogeography and evolution.
■ The Combined Honours in Biology and Physics is an excellent choice for students interested in biomechanics, biophysics or medical physics.
■ Our popular Combined Honours BSc degree in Neuroscience is offered through the Department of Neuroscience and the Department of Biology.
First year experience
Carleton introduces you to issues of contemporary science in Seminar in Science (NSCI 1000), a first-year seminar course. You will attend six special lectures given by prominent Canadian researchers, as well as small group seminars led by a professor who acts as both your mentor and teacher.
Through assignments, presentations and discussions, you will develop the analytical and communication skills needed for success in the world of science.
Future opportunities
The workplace
By pursuing a degree in Biology you will be well prepared for direct entry into various careers within the life sciences field. Many of our students go on to careers as biological consultants, wildlife and resource managers, and teachers. Some work as research technologists in a wide range of government and industrial research laboratories.
Graduate studies
Graduates of any of our Honours programs are well qualified to go on to graduate studies. If you think that you may wish to pursue an advanced degree, you are encouraged to investigate graduate programs early in order to ensure that your program is suited to meet the relevant graduate-level requirements.
Professional programs
Many professional programs, including teaching, medicine, dentistry and veterinary sciences encourage well-rounded applicants from a variety of backgrounds to apply. Biology provides a strong foundation for such programs.
What students are saying about Biology (BSc)
---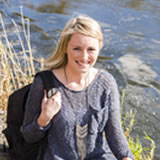 The research and training opportunities I have been afforded while an undergraduate student in biology have allowed me to become an informed and knowledgeable environmental biologist. Not only have I been able to work on projects I am truly passionate about, but I have also been able to work directly with an industry partner to solve real world problems. I think the best part about my experience in research so far is the fact that our research team is so diverse, covering various sectors and expertise, which provides me with an appreciation of the value of interdisciplinarity.
Brittany Sullivan, Biology student with a concentration in Ecology, Evolution and Behaviour