← Programs / Arts / Film Studies
Program Summary
Cinema is examined in Carleton's Film Studies program as an art form, an entertainment, and a documentary record of our time. Through a variety of critical approaches, you will study the history and aesthetics of film and other moving-image media, the main currents and developments in filmmaking, and the works of some of the world's best filmmakers. Other areas of study include the documentary and the musical; animation; experimental film and digital media; African, Japanese, Indian, European and Canadian cinema; film theory; film technology; and silent cinema.
You will also examine broader questions of culture and hone your critical, research and analytical skills. Students in their fourth year can also take advantage of the practicum program in which they can get real-world experience working in archival research, film preservation, programming, exhibition or production work at institutions such as the Canadian Film Institute, the Ottawa International Animation Festival and the SAW Gallery. Moreover, you will have the opportunity to express your artistic vision and create audiovisual essays through our "Moving Image Practice" courses.
The Carleton advantage
Carleton University's Film Studies program, offered through the School for Studies in Art and Culture, is one of the largest and most respected of its kind in Canada.
Here, you will find a broad range of expertise among the faculty in Film Studies. Carleton professors combine experience gained throughout the world, in the cinemas of Africa, France, the U.S., Britain, India, Canada, Europe and East Asia. Areas of special interest include animation, experimental media, queer and transgendered cinema, gender and cinema, cinema and new technologies, gaming, sound, horror, and adaptations from literature and theatre.
The university provides students with first-rate screening facilities right on campus, as well as access to its own extensive film collection. Carleton's collection includes about one-third of all films produced by the National Film Board of Canada and offers a wealth of research and study opportunities.
Work experience
The Film Studies program offers fourth-year Honours students a unique practicum opportunity. Twelve-week placements for archival work and film preservation, programming and exhibitions, as well as opportunities for writing and working alongside film and video producers, exist at various locations in Ottawa. The practicum not only allows students to acquire practical skills but also offers them a chance to establish valuable contacts that might come in handy after graduation. Several of our graduates attained fulltime or contract employment through former practicum placements.
The capital advantage
Carleton's location in the nation's capital, Ottawa, provides a dynamic environment for the study of the cinema. The city's lively film and media scene includes film festivals (such as the Ottawa Animation Festival, Cellar Door Film Festival and the One World Film Festival), alternative and repertory cinemas, as well as artist-run film and video production centres such as the Independent Filmmakers Co-operative of Ottawa and the SAW Video Co-op. Students can also access the resources available at such Ottawa institutions as the Moving Image and Sound Archives at the National Archives of Canada. Furthermore the Canadian Film Institute has recently moved its screening operations to Carleton University, thus giving our students unique access to this vital proponent of film culture in Canada.
The program
Bachelor of Arts (General)
Bachelor of Arts (Honours)
Bachelor of Arts (Combined Honours)
Carleton University offers several undergraduate programs in Film Studies: the Bachelor of Arts (BA) General program, the more intensive Bachelor of Arts (Honours) program and the  Combined Honours program. Film Studies courses examine film theory and history; the cinematic cultures from across the globe, including but not limited to Great Britain, France, Japan, Africa, Germany, the U.S. and Canada; the work of individual filmmakers; the documentary; film music; and animation, video and experimental film, to name just some of the areas of study.
The BA (General)
This program is for you if you are looking for a liberal arts education with an emphasis on Film Studies. A total of 15.0 credits is required, normally completed in three years. Six of your credits must be in Film Studies.
The BA (Honours)
This is a rigorous and comprehensive program of Film Studies requiring 20.0 credits for completion. At least 9.0 of your credits must be in Film Studies.
Combined Honours
Honours students may also choose to take advantage of a Combined Honours program that combines Film Studies and another discipline. Seven Film Studies credits, as well as meeting the requirements of the other discipline, are required for the combined degree.
Fourth-year seminars
One of the most important differences between the Honours program and the General program is the unique learning experience provided by the fourth-year-level seminars. In these seminars, students will have the opportunity to work together in small groups exploring conceptual issues related to film history and theory and to present their findings in oral presentations and written essays. The seminars bring together all the factual knowledge and analytical skills students have acquired over the course of the program. FILM 4001, which is required of all Honours students, provides instruction and advice on applying for admission into graduate school.
Independent study
As a senior student in the Honours program, you will also have the opportunity to propose an independent study course and pursue an area of special interest under the guidance of a professor. Recent topics have included African women in cinema, the role of sound in the musical, and gay Spanish cinema during the Franco dictatorship.
Minor in Film Studies
Students concentrating in other disciplines may choose to complete a minor in Film Studies, which requires 4.0 credits in Film Studies.
First-year experience
First-year Film majors are strongly encouraged to register in our First Year Seminar, FYSM 1510 Moving Image and Sound. While covering the same material as our large-enrollment FILM 1000, this First Year Seminar will get you away from the lecture hall and give you the chance, in a small class of no more than 30, to discuss and debate topics with your classmates and professor. You will also get early and frequent feedback on class assignments and instruction in research, writing and study skills.
Future opportunities
The workplace
Graduates of Carleton's Film Studies program have challenging careers as filmmakers, screenwriters, television producers, film critics, cinema and festival programmers, archivists and scholars.
Graduate studies
Graduates of our program are well qualified for further studies in cinema, communications, education, journalism, and film and media production. If you think that you may wish to pursue an advanced degree, you are encouraged to investigate graduate programs early in order to ensure that your program is suited to meet the relevant graduate-level requirements.
Professional programs
Many professional programs, including teaching and journalism, are interested in attracting well rounded applicants from a variety of backgrounds. Film Studies has traditionally provided a strong foundation for such programs, and you are encouraged to pursue interests you may have in these fields after completing your undergraduate degree.
What students are saying about Film Studies
---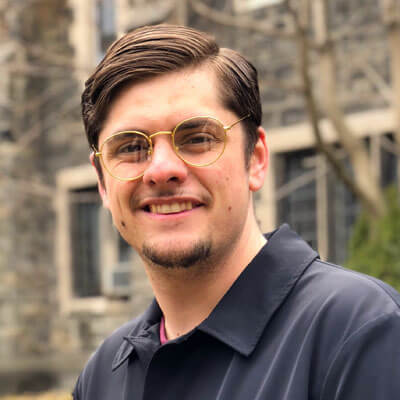 Through the Film Studies program, I have gained unparalleled insight in to the intricacies of film as an art medium, but also as an artifact of cultural history. Carleton's Film Studies professors are immensely passionate about their fields of study, consistently imparting that passion on to students. The Film Studies program has empowered me with the knowledge to understand and discuss cinema at an academic level, while also delivering a meaningful experience that I'll never forget.
Brendan Luck, Film Studies student