← Programs / Science / Environmental Science
Program Summary
The Environmental Science program brings together the study of biology, chemistry, earth sciences and geography to enable its graduates to address complex and multidisciplinary environmental and conservation problems. Through lecture and seminar courses, hands-on laboratory work and field camps, students become proficient in topics such as water resource management, fish and wildlife ecology, ecological restoration, sustainable resource extraction, environmental monitoring, and environmental policy. In the upper years, students take courses in chosen areas of study and hone their skills in preparing research and thesis projects, working in teams and individually on current problems facing environmental science.
Concentrations are available in Ecology, Biodiversity and Conservation; Chemistry; and Earth Sciences. The Environmental Science honours program is accredited by ECO Canada, which aids the graduates of our program in following their own interests and paths to tackle a wide range of environmental issues.
The Carleton advantage
The Environmental Science honours program at Carleton University is accredited by ECO Canada. Accreditation is a new national process under the auspice of the Canadian Environmental Accreditation Commission (CEAC), and its completion signifies that our program has been recognized for equipping undergraduates to be successful and competent environmental scientists when entering the job market. After graduation and five years of experience, graduates are able to write their professional certification exams.
The major benefit of this accreditation is the assurance that our program is highly relevant in the dynamic Canadian environmental industry; this assurance gives students and graduates of the program a competitive edge when they are looking for research and career opportunities.
Personal learning experience
One of the characteristics of the program is that you will study alongside many of the same students throughout your studies, forming a network of associates and friends. There is a very active student association know as the Environmental Science Student's Association (ESSA). You will also benefit from a resource centre on campus developed for students in the Environmental Science program. You are encouraged to make use of the centre for research or study purposes or simply as a focal point for meeting and socializing with others in the program.
Work experience
Environmental Science offers several hands-on work opportunities. In the second year of the program, you will take Environmental Science Field Methods which involves field trips (including several overnight sessions) to various locations in eastern Ontario. The field course provides valuable experience in many aspects of geology, soil and lake water contamination, sampling and analysis associated with mining, and restoration activities. There is also a third-year field course (which involves much interaction with practicing professionals) and an optional practicum course to provide the opportunities for applying environmental knowledge to a range of external work settings.
Co-op opportunities
A co-op option in Environmental Science is also available. Placements are associated with federal government departments (e.g., Environment, Health, and Natural Resources) and environmental companies involved in consultancy and resource management.
Fourth-year research projects
In your final year of the program, you will be involved in research directly related to an issue of environmental significance. Thesis topics cover a wide range of interests, including ecosystem habitats, climate change analysis, fisheries, water quality and health issues, microbiology, contamination and soil stability.
The capital advantage
The Ottawa area is one with considerable environmental work activity. Several government departments are involved with the research that leads to environmental legislation and regulation. Associations with these departments, as well as with the National Capital Commission, national museums and the National Research Council Canada, provide an unparalleled background for your study in environmental science and invaluable networks for career opportunities after you graduate.
The program
Bachelor of Science – BSc (Honours)
Carleton University offers a Bachelor of Science (Honours) in Environmental Science. The program requires a total of 20.0 credits and is designed to be completed in four years of full-time study.
The program is structured so that you gain a thorough grounding in the sciences required to address environmental issues. In addition to courses in environmental science, the first and second years include courses in biology, chemistry, earth sciences and geography, as well as two courses in mathematics and statistics, and a course on environmental ethics. In third and fourth year, there is considerable flexibility in your course selection to allow you to develop an area of special interest. You will learn to design research proposals, work in teams on multidisciplinary problems and communicate your results effectively. The program advisors will work closely with you at this time, guiding you through the process of choosing your area of specialization and ensuring that you have all the necessary requirements for graduation.
Throughout the four years of the program, your studies will also include a sequence of courses in arts and social sciences that is relevant to the study of the environment. This sequence may include areas such as economics, social geography, communication, law, environmental policy and international relations.
Bachelor of Science – BSc (Major)
The BSc (Major) in Environmental Science is a 20.0 credit program that provides an excellent education in the fundamentals of environmental science. In the Major program, the honours thesis project is replaced with a directed project study. This program is ideal for students who do not plan on pursuing a graduate degree but still wish to gain a strong professional grounding and expertise in the field.
Concentrations and Minors
As an alternative to the core program in Environmental Science, you can elect to complete an Environmental Science degree with a formal concentration in one of Biology, Chemistry or Earth Sciences.
Concentration programs are especially relevant for those who may wish to pursue graduate degrees in the area of concentration. These programs diverge from the main program only at second year and you do not need to make a decision on the program you choose until then.
Another option within the Environmental Science program is to complete a minor in an area complementary to Environmental Science. Some of the minors currently available to students in the program include Business, Computer Science, Economics, English, Geography, Law, Philosophy, Psychology, Statistics and Sociology.
First-year experience
Environmental Science has its own specialized First-year Seminar and discussion course: Environmental Science Seminar (ENSC 1500).
Future opportunities
The workplace
Graduates of our program are now actively involved in environmental work around the world.
Recently advertised positions for which a degree in Environmental Science is the key qualification include work in water resource management and protection, wildlife protection, environmental contaminants monitoring, management of northern parks, environmental policy, naturalist studies, ocean disposal, environmental chemical analysis, environmental regulation compliance, waste minimization, biodiversity conservation, protection of fish habitats, pesticide toxicity evaluations, indoor air monitoring, environmental hydrogeology and many others.
Graduate studies
Graduates of our program are well qualified to go on to graduate studies in a variety of fields including water resource management and protection, biodiversity conservation, environmental chemistry/ toxicology and environmental hydrogeology. If you think that you may wish to pursue an advanced degree, you are encouraged to investigate graduate programs early to ensure that your program meets the relevant requirements.
Professional programs
Many professional programs, including law and teaching, are interested in attracting well-rounded applicants from a variety of backgrounds. Environmental Science provides a strong foundation for such programs, and you are encouraged to pursue interests you may have in these fields after completing your undergraduate degree.
What students are saying about Environmental Science
---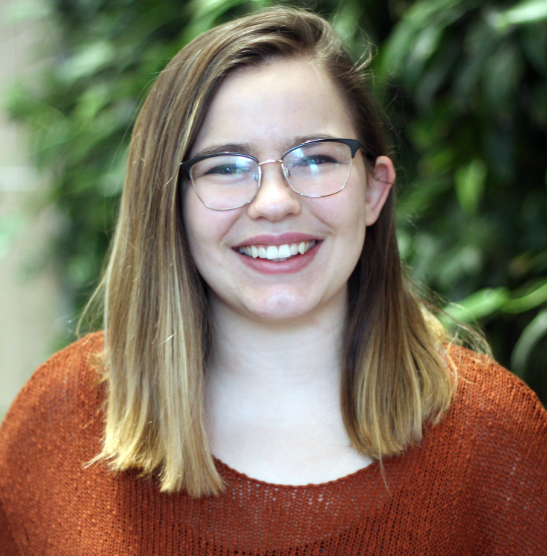 The multidisciplinary nature of this program has given me a greater understanding of how Chemistry, Biology, Geology, and Philosophy overlap. I now see the broader picture of the environment and have been able to specialize in Ecology, Biodiversity and Conservation. This program has opened so many doors for me and the close-knit community of the program is a key factor in my successes!
Amanda Davidson, Environmental Science student