← Programs / Arts / Applied Linguistics and Discourse Studies
Program Summary
Language is an essential part of what it is to be human and this program gives you the opportunity to examine how language works in real life. The field of Applied Linguistics and Discourse Studies develops and applies theories to solve everyday problems involving language. Course materials address such questions as how languages are taught and learned, how language competencies are evaluated, how writing is used to perform a variety of functions, how language is used in specific social contexts, how language can influence society and vice versa, how government policies influence language practices and what makes a bilingual education program effective.
Minor programs in American Sign Language, Mandarin Chinese, German, Italian, Japanese, Russian, Spanish and Linguistics are also available. A certificate program is also available in Teaching English as a Second Language (CTESL).
The Carleton advantage
Teaching and research
Carleton University is one of the leading universities in Canada in the fields of Linguistics, Applied Linguistics and Discourse Studies, and Teaching English as a Second Language. SLaLS is recognized nationally and internationally for its research into both theoretical and applied linguistics. Faculty members carry out research in a variety of areas: syntax, phonology, psycholinguistics, historical linguistics, language acquisition, language teaching, curriculum development, language policy, language testing, adult literacy, educational linguistics, the development of writing abilities and the use of language in the workplace.
The capital advantage
One of Carleton's greatest assets is its location in the nation's capital. As a student here, you will be able to take advantage of all that Ottawa offers, including access to the federal government, cutting-edge research facilities, national and international organizations and numerous national museums.
The program
Bachelor of Arts (General) or (Honours)
Applied Linguistics emerged as a distinct discipline in the late 1970s with a concern for solving real-world problems related to language learning and teaching, language in education, language policymaking, language testing, language in society and effective communication in the workplace. Discourse Studies and Writing Studies focus on the study of text, talk, writing and, more recently, multimodal and multimedia discourse; they employ a range of research methods including case studies, ethnography, critical discourse analysis, genre analysis, and computer-assisted corpus analysis.
Our programs focus on three main areas:
Applied Linguistics: How are languages learned, taught, and assessed? How can language policies influence language practices and protect minority or endangered languages? What makes professional communication in a first or second language effective? What role does language play in creating social identities and social orders?
Discourse Studies: How is language—spoken, written, visual—used in complex organizations such as workplaces, schools and media to achieve specific goals, and what is its level of effectiveness? How are texts and other symbol systems—such as photographs and video clips—used, and why and for whose ends? How do we use language to exercise or resist power?
Writing Studies: How is writing used in academic, workplace, and community settings to construct knowledge, accomplish learning, and coordinate people's activities? How is writing best taught and learned in these settings?
Both the programs examine each of these areas. Honours students may complete an optional Honours project, and many high-achieving students continue into our MA program.
Core courses
Core courses for this program include an introduction to linguistics, language analysis and a selection of other courses from topics such as discourse analysis, corpus analysis, second-language learning, writing, adult literacy, language testing, language in society, and bilingualism.
Language proficiency requirement
Students in the program are required to have a working knowledge of at least one other language besides English by graduation. Proficiency is determined by successful completion of 1.0 credit in the language or by an oral or written test given by the School.
Bachelor of Arts (Combined Honours)
You may wish to combine your studies in Applied Linguistics and Discourse Studies with studies in another discipline. You will need to fulfill the credit requirements for a combined program in both majors. You may also combine both of our own programs in the specially designated Combined Honours in Linguistics and Discourse Studies.
Minors
The School offers minors in American Sign Language, Chinese (Mandarin), German, Italian, Japanese, Russian and Spanish, each of which requires four credits in the language. Minors are also offered in Linguistics and in Applied Linguistics and Discourse Studies.
Certificate in the Teaching of English as a Second Language (CTESL)
Carleton's program, offered through the School of Linguistics and Language Studies, is one of Canada's oldest and best-known TESL programs.
The CTESL program includes courses in theory and methodology, as well as a practicum that includes opportunities for classroom observation and supervised teaching in a variety of settings. With the proper course selection, the program may be taken simultaneously with the four-year Honours program in Linguistics or Applied Linguistics and Discourse Studies, or with other majors, allowing you to graduate with both a degree and a certificate at the same time. You can also pursue this program as a post-degree certificate.
The CTESL program concentrates on teaching English to adults, either in Canada or abroad. It is widely recognized in Canada as a qualification to teach ESL at the post-secondary level in private language schools, colleges and universities. Overseas, it can lead to teaching positions at the elementary and secondary school levels, as well as at the adult level.
First-year experience
First-year requirements are the same for our programs in Linguistics and in Applied Linguistics and Discourse Studies. This common core will allow you to confirm or change your choice of major before you begin to specialize in second year.
BA students are encouraged to include a First-year Seminar (FYSM) in their first-year course load. These Seminars provide you with the chance to discuss and debate topics with your classmates and your professors in a small class of no more than 30 students.
Future opportunities
The workplace
Career opportunities for students with a Bachelor of Arts in Linguistics or Applied Linguistics and Discourse Studies include language teaching, educational research, language planning and development, literacy work, lexicography, forensic linguistics, speech-language pathology, and computer speech production and recognition.
Graduate studies
Graduates of the Honours programs may be eligible for graduate studies in a variety of fields including theoretical linguistics, psycholinguistics, cognitive science, computational linguistics, speech-language pathology, applied linguistics, discourse studies, writing studies, language assessment and language education.
If you think that you may wish to pursue advanced studies, you are encouraged to investigate graduate programs early in order to ensure that your program is tailored to meet requirements at the graduate level.
Professional programs
Many professional programs, including law and teaching, welcome well-rounded applicants from a variety of backgrounds. Linguistics, or Applied Linguistics and Discourse Studies, can be a strong foundation for a number of professional programs, and you are encouraged to pursue your interests in these fields.
What students are saying about Applied Linguistics and Discourse Studies
---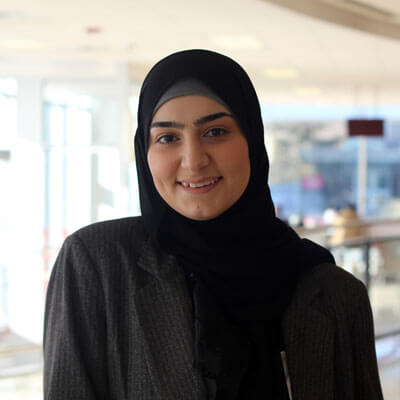 Through Applied Linguistics and Discourse Studies, I developed my academic writing and critical thinking skills. I use these skills in my current position as a Research Assistant. Because of their guidance, I had the confidence to go forward into graduate studies, pursue a thesis, and build myself as an academic researcher.
Fatima Ady, Applied Linguistics and Discourse Studies student