← Programs / Science / Interdisciplinary Science and Practice
Program Summary
The BSc in Interdisciplinary Science and Practice integrates concepts and knowledge from different science disciplines to be applied to real world problems through local and global perspectives. This program innovates the conventional science curriculum to entrench the principles and practice of interdisciplinarity, and includes a 15-credit degree and 20-credit Honours degree.
Students are asked to complete eight interdisciplinary science courses and one minor within the Faculty of Science. Honours students are also encouraged to complete a second minor within the faculty with learning culminating in an academic capstone experience (group research project, research essay or individual research project).
Program graduates will be well prepared to balance specialized technical knowledge with the transferable skills of critical thinking and problem solving, teamwork and science communication.
The Carleton advantage
At Carleton University, we have a strong tradition of providing multidisciplinary programs, responding to the needs of employers and society as a whole. The ISAP program will be delivered as part of the Institute of Environmental and Interdisciplinary Sciences (IEIS). The Faculty of Science at Carleton has a strong commitment to undergraduate teaching and proven and diverse research strengths, which means that students are exposed to fundamental and applied research as an integral part of their undergraduate experience. This program also reflects Carleton's commitment to experiential learning and community-based learning, by providing opportunities for the application of scientific knowledge to issues of broad importance locally and worldwide.
The ISAP program has a student resource room and a lounge where students can meet and study, do group work, or socialize. This gives you another opportunity to connect with others your program and to meet students in other programs in the Institute.
The capital advantage
Carleton University is located in Ottawa, Ontario, Canada's capital city. This setting allows you to take advantage of the presence of government scientific research laboratories and the National Research Council of Canada. Faculty members in our institute and their students collaborate with researchers in the fields of science and policy within many government agencies and non-government organizations. This gives you unparalleled opportunities to interact with the people who apply science to make policy decisions and gives you the chance to establish a valuable network of contacts.
Some of the government departments that collaborate with our faculty members include Health Canada, Agriculture and Agri-Food Canada, Environment Canada, and Fisheries and Oceans Canada, to name a few.
The program
The Interdisciplinary Science and Practice program (ISAP) looks at issues such as food security, environmental stewardship and cybersecurity. From your first year, you will be part of a unique learning experience where students studying many different subjects will come together in small seminar courses and combine their new knowledge to investigate realworld issues. The focus is on science communication skills, integrating knowledge from many different fields and using Big Data.
In the ISAP program, you can take an Honours Bachelor of Science (BSc Honours) in Interdisciplinary Science and Practice, which is normally completed in four years of full time study, or over a longer period if you choose part-time studies. You can also opt to transfer into a General Bachelor of Science (BSc General), which is typically completed in three years. You will pursue at least one field of science – taking at least eight courses in that field – and we encourage students who remain in the Honours program to select a second area of study as well, either another area of science or a non-science field. These two areas fit into the degree, leaving plenty of room for additional study in areas that interest.
Students in the Honours program will take on an eight month project in their final year. Working with a faculty mentor, either individually or in a group, you will select an issue that you want to tackle and apply all of your learning to adding to the knowledge base or answering a pressing question.
Areas of study
Students will choose at least one minor from:
Biochemistry
Biology
Chemistry
Computer Science
Earth Sciences: Earth Resources and Processes
Food Science
Geography
Geomatics
Mathematics
Neuroscience and Mental Health
Physics
Statistics
Future opportunities
The workplace
While your career path depends on your individual interests, with appropriate advising and completion of the required courses, you will be well-equipped to enter a wide range of fields including, but not limited to: audiology, biology, business, data science, environmental science and stewardship, food studies, genetic counselling, medicine, optometry, science communication, science policy, urban agriculture, veterinary medicine and zoology.
Graduate studies
As a graduate of our program, you will be well qualified to continue your studies in variety of fields including interdisciplinary sciences or discipline-specific degree programs (e.g. library science, data science, science communication). If you think that you may wish to pursue an advanced degree, you are encouraged to investigate graduate programs early to ensure that your program meets the relevant requirements.
Professional programs
Many professional programs, including law, medicine, journalism and teaching, are looking to attract well-rounded applicants from a variety of backgrounds. Interdisciplinary Science and Practice provides a strong foundation for such programs, and you will be well prepared to pursue interests you may have in these fields after completing your undergraduate degree.
What students are saying about Interdisciplinary Science and Practice
---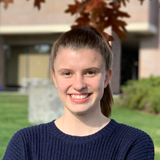 I chose the Interdisciplinary Science and Practice (ISAP) program because it provides me with a strong foundation in the principles of science while allowing me the flexibility to explore my wide range of interests in fields such as business and public policy. The specialized ISAP courses focus on how we as scientists and global citizens can promote and utilize interdisciplinary thinking to solve problems of all sizes. By building skills in science communication, policy and data analysis, I've gained a better understanding of how important collaborative action is in order to implement not just the work of scientists, but of every discipline.
Mackenzie, Interdisciplinary Science and Practice (ISAP) student