We can't wait to connect with you this fall! Carleton University will be visiting high schools to chat about our undergraduate degree programs, generous scholarships and awards, residence, co-op, athletics, student services and the many advantages of studying in Canada's capital!
High School Visits
This fall, Carleton will be hosting a number of high school visits! To find out if we will be hosting a visit for your high school:
Log in to Carleton360.
Click on 'Interests and Preferences'.
Edit your 'Academic Interests and Communication Preferences' to include the name of your high school.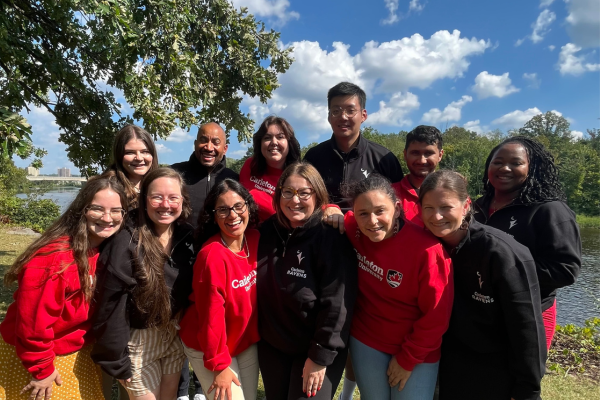 Aboriginal Post-Secondary Information Program (APSIP)
September 18 – December 8, 2023
Connect with our Indigenous Initiatives Recruitment Coordinator, Kaitlin Ransom, at the Aboriginal Post-Secondary Information Program (APSIP)! APSIP is a collective of recruitment representatives from colleges, universities and Indigenous learning institutes in Ontario and Quebec that take part in a 12-week post-secondary education tour.

Ontario Universities' Regional Fairs
Visit Carleton University at a Regional Fair! The Regional Fairs allow students to gather information about Ontario's universities at fair-style events across Ontario.
Northwestern Ontario: September 25 – 29, 2023
Northeastern Ontario: October 2 – 5, 2023
Ottawa and Eastern Regions: October 30 – November 2, 2023
Southwestern Ontario: November 6 – 9, 2023
Central Eastern Ontario: November 13 – 16, 2023
Stay Connected with Carleton
Sign up for Carleton 360
Get started in Carleton360 to receive tailored information on our programs, student services and community.
Take a virtual campus tour
Explore Carleton's beautiful riverside campus inside our virtual tour. More scenes coming soon!