Carleton University offers unique opportunities to our students.
The Capital Advantage 
Carleton University is located in Ottawa, the nation's capital. Ottawa is home to Canada's federal government, over 130 embassies and high commissions from around the world, and numerous national organizations and museums, as well as major medical, clinical and life sciences research centres and a booming tech industry.
Experiential Learning

At Carleton, we strive to provide students with real-life experiences that bring the classroom to the world and the world to the classroom. We emphasize hands-on research, community engagement, work experience and immersive learning. Our students have the chance to participate in experiential learning opportunities such as co-op, practicum placements, undergraduate research, entrepreneurship initiatives and community service-learning.
Career focus

Any of our degree programs will provide students with transferable skills in writing, organization, communication, research, critical thinking, time-management, problem-solving and the ability to synthesize information. Co-op work, internships and practicum placements, available in many of our programs, allow students to apply these skills in real-world situations. Carleton also offers career counselling and career services to all students.
Global perspective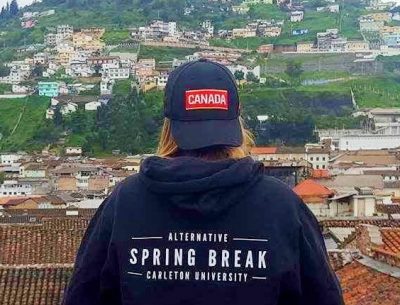 The link between the global and the local is at the heart of our endeavors as an academic community. On campus, students will study with student peers from over 150 different countries. We also offer many opportunities for students to study abroad or participate in Carleton courses taught abroad. Whether students stay on-campus or study abroad, our location in the nation's capital and their experience on campus can provide them with the resources to build a global perspective.