At Carleton, English students have the chance to study in a small department where professors are accessible and where there is a strong sense of community. There are also additional opportunities available to Carleton English students.
Customize your degree with concentrations and minors
English students study a broad range of literature courses, which includes everything from Canadian, American and British literature to African, South Asian and Caribbean literature, to topics like popular culture, science fiction and children's literature.
In addition, the following concentrations and minors are offered to English students:
What do students say about these opportunities?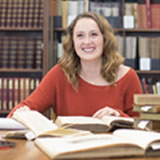 "The students in the Creative Writing concentration are a very close-knit community, so your peers quickly turn into your friends and a larger network of writers you can share ideas with. Every class is filled with familiar faces and friends who are more than willing to assist with your work. Without the concentration, I'd be scribbling half-finished stories on bits of paper, instead of getting some writing published and sharing my voice." –Christine, English with concentration in Creative Writing.
"I would highly recommend the Drama Studies concentration to anyone who even has the smallest interest in theatre, or the arts in general. You are able to learn your own strengths and gain so many new ones, all the while having a fantastic time." –Mary, English with a concentration in Drama Studies.
Gain relevant work experience through co-operative education
The English Honours program also offers a co-op option. Co-op gives students an opportunity to build important connections with employers and gain work experience before graduation. Through co-op, English students build on the skills they have learned in communication, research, organization and problem-solving. These skills, plus the co-op program, ensure that Carleton English students have an important strategic advantage after they graduate.
Find out what Alicia, a recent graduate of the English program, has to say about participating in co-operative education.