There are several aspects of Carleton University's Environmental Science program that differentiate our program from others.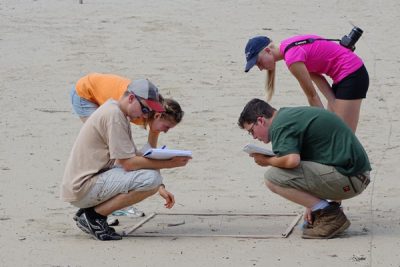 Opportunities for hands-on learning
Not only does Carleton University's location in Ottawa provide students with opportunities for real-world problem solving, but students also have the opportunity to participate in hands-on learning in their classes. In addition to regular field courses, Environmental Science now offers two semester-long field courses. One day per week, and on select weekends for overnight trips, students travel to various sites around eastern Ontario and Quebec to learn about the environment.
Dedicated professors and instructors
Carleton's Institute of Environmental Science continues to grow with the hiring of new professors and instructors. Environmental Science professors and instructors are committed to student mentoring and providing students with an enriched learning experience.
Option to complete a thesis project
In fourth year, many Environmental Science students work on a thesis project. These students work with professors and off-campus partners to produce high-quality undergraduate theses in Environmental Science—some of which have been published in peer-reviewed scientific journals.
Examples of past thesis projects include: studying Arctic breeding shorebirds on Canada's Atlantic coast; comparing the fuel consumption in tractors with different bio-diesel blends; and studying how fish in the Bahamas respond to fluctuating temperatures.
Accredited by Eco Canada
The Environmental Science Honours program is accredited by Eco Canada. This means that graduates of the Honours program can work toward becoming recognized as a "Certified Environmental Professional" with Eco Canada.