This post goes out to those prospective students, current undergraduate students, and anyone with a passion to fuel their creative spirits. At Carleton, we offer an undergraduate program, graduate program and even a minor in Industrial Design! It's never too late to start thinking about the possibility of this exciting path. So, without further ado, here's an inside look at my first year (so far) in Industrial Design.
First off, what exactly is industrial design?
"Industrial Design (ID) is the professional service of creating products and systems that optimize function, value and appearance for the mutual benefit of user and manufacturer."
– Industrial Designers Society of America
I've come to realize that industrial design encompasses everything. Any product you interact with on a daily basis has likely been influenced by someone in the industrial design community. Carleton's unique, multi-disciplinary Industrial Design curriculum is an impressive blend of industrial design studio courses, with required and elective science, technology, engineering, mathematics, arts and business courses. In my first semester of the Industrial Design program, I took courses in design, psychology, physics, economics and, the staple of the degree, Industrial Design Studio.
Throughout your time in Industrial Design, you will discover how courses in applied and social sciences play crucial roles in the design process. For example, psychology helps you understand how people perceive and interact with products, while physics helps you to create feasible ideas.
Industrial Design Studio has been the most unique course I have ever taken. The small class size is great for receiving feedback on your work and getting to know your studio professors. Even though I am only a few months into my program, the group at the School of Industrial Design already feel like an extended family to me. I think it's amazing that I know almost every person in my degree by name!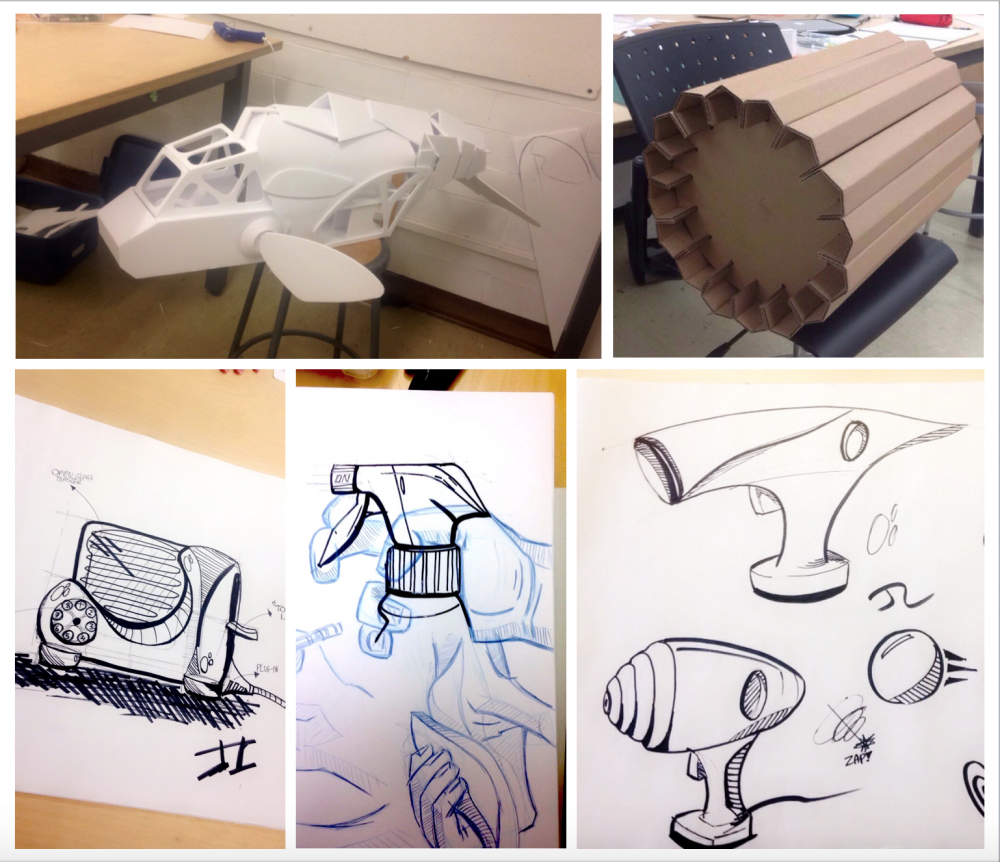 Throughout this semester, my peers and I have had the opportunity to work on some amazing projects. In our first few weeks, we started learning the basics of sketching through something we like to call 'jamming sessions'. Imagine six straight hours of drawing lines, cubes and any fantastic shapes that come to mind – it was an absolute blast!
Our professors like to start with the basics to make sure we have a solid foundation in sketching. That way, everyone can build off each other to produce some truly phenomenal work. Pictured above are two of the major projects I got to work on this semester; a personal favorite of mine being an underwater vehicle!
Another project we worked on was creating a cardboard stool (that could hold upwards of 200 lbs.) with no glue. Once we designed our projects, they had to be assembled by a randomly selected classmate. It was equal parts exhilarating and terrifying.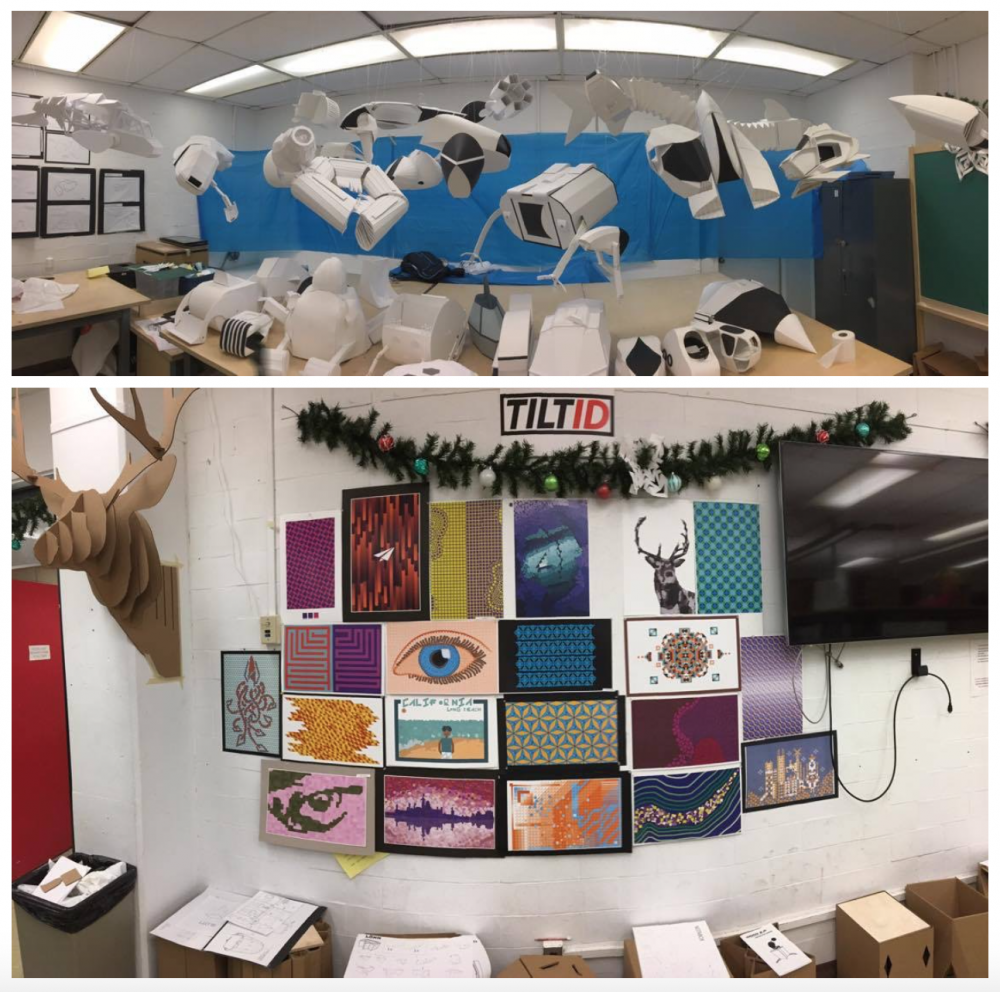 Pictured above are some of the highlights from our first semester Studio Review. This is an event where all of the undergraduate Industrial Design students hang their work in the studio for everyone to see. It was incredible to see all the underwater vehicles hanging from the ceiling! Looking back, it's remarkable to think that the 25 people in my studio class were complete strangers only a few months ago. In this short time, I know that I've already made friends and memories that will last a lifetime.
In short, as an Industrial Design student at Carleton, be prepared to work hard and be creative. However, you should also be prepared to make amazing friends and have a lot of fun. If you are ever in the Ottawa area, there are plenty of ways to see what we do! I highly encourage you to take a tour of our facilities at one of the Design Open Houses scheduled throughout the year, or at our Fourth Year Design Showcase in April.
Stay Creative!
– Justin
(additional photos courtesy of Robert Read and Eric Pond)