Welcome back to Part 2 of this article! Last time, I walked you through an example of what an Industrial Design project looks like, and followed along my process of creating the project deliverables (the required things that you hand in to be graded). Usually, the next step in the Design Studio project process is presenting your work. We call it a review. In this post, I'll be giving out a few tips and tricks that help me present my work effectively. Let's get started!
Public speaking?! That wasn't a pre-requisite?!
Don't panic! You've got this! Whether you're the most confident theater person on the planet, or someone who faints at the thought of public speaking, everyone starts at roughly the same place in Carleton's Industrial Design program. The studio class sizes are small, and there likely will not be more than 25 people in a room at a time when you present. You also won't be presenting right off the bat on the first day. Design reviews like the one I'm describing will begin 3-4 weeks into your first semester. By that time, I had already made strong connections within the studio and with professors! I've experienced a strong sense of community and camaraderie in Industrial Design Studio, and I feel that everyone supports each other. Your professor will be sure to give you plenty of examples of what they expect from you before you present your actual presentation, so you'll also get lots of time to practice.
So what exactly do reviews look like?
Your studio class will typically begin at 9:30 a.m. Before that time, you will be expected to have all of your deliverables ready to present. Sometimes that means having your drawings framed with black card-stock paper and sometimes that means having a foam model looking in tip-top shape. Whatever the project outline requires, everyone will have their stuff pinned up around the room, ready to present by the time class begins. Review days are a great time to look at all the fantastic work your classmates have done!
Your studio professor will then usually gather up the class to huddle around each project one by one. Depending on the project, the professor may ask each person a few questions, or you might be asked to tell the story of your project.
Here's an example of one review day where all of us were asked to present a series of pop-up cards as deliverables. Just look at everyone's work!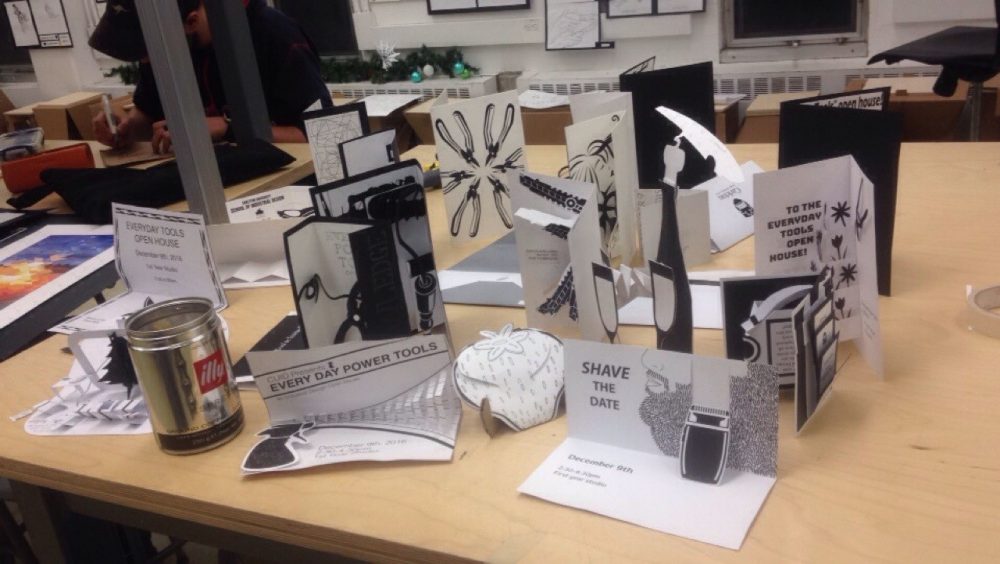 How do I tell the story of my projects?
Story is just another word for process. I find that Carleton Industrial Design values the destination and the journey. Looking back at the process of making something helps you grow as a designer. Presenting your process can be as easy as pointing to your sketches, then your cleaner drawings, and then your final physical 3D model. The easier it is to understand your thinking from one step of the process to the next, the better your presentation will be as a whole.
Here's an example of a process board I made while designing a cutting tool. I made sure to include several photos along the way to document the different designs I tried out.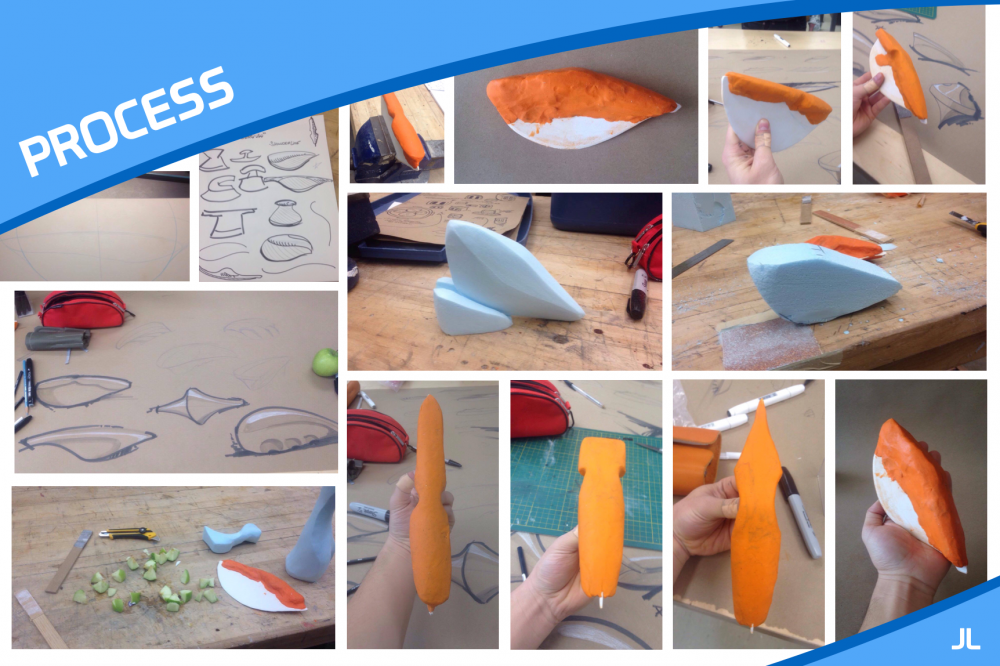 Another great tip that helps me present is to be passionate about the work you do! Really! Having fun along the way plays a crucial part in all of this. In any project, there may be a way to draw inspiration from something you truly feel passionate about. For example: in one project, we had to design an underwater utility vehicle. Now, I'm a HUGE fan of Beluga Whales, and I based the design of my vehicle around the structure of a Beluga. Literally! I ended up designing a vehicle intended to serve as an underwater ambulance, and I was able to connect the nurturing mammalian nature of belugas to a healthcare-focused design. This really helped me while I was presenting, because I was excited about my design and its origins. My passion also gave me a lot of material to talk about when I presented.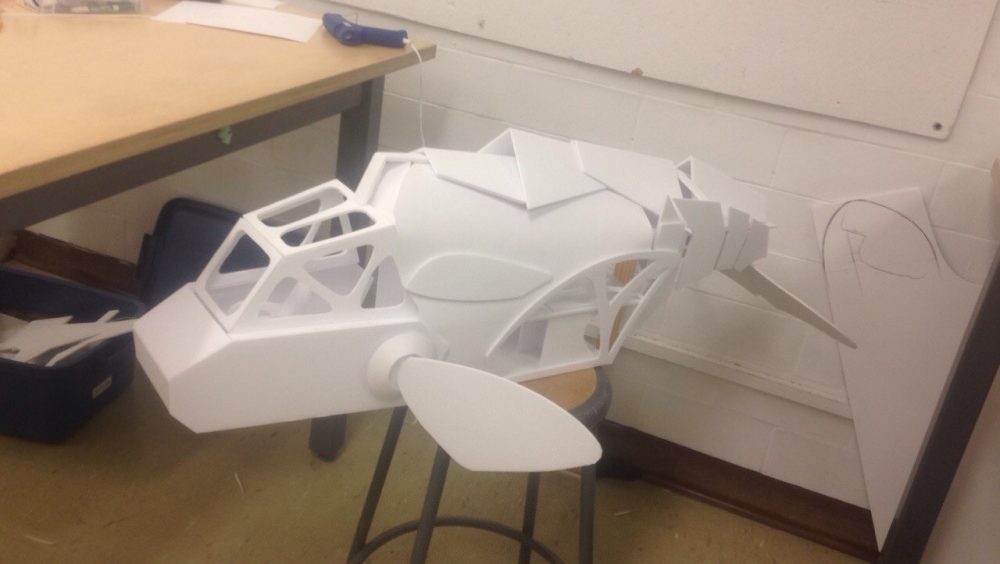 I'm not great with thinking or presenting on the spot. Got any advice?
Absolutely! Improvisation is something all of us have varied experienced with, so don't worry if it's not your strong suit. I'll say it's never a bad thing to be too prepared. Before a review, I usually jot down a down a few pointers I want to make sure I say, just in case I need to refer to them while I'm speaking. Writing down a few talking points also ensures that you don't leave out anything really important. Reviews are kind of like tests in Industrial Design. Sometimes while studying for a test, you might have a friend ask you a few practice questions to test how well you know the material. The same applies for reviews! Try having a friend ask you a few questions about your project. For example: What was your thought process? Who is this designed for? Did you have any challenges along the way? Having a few practice sessions under your belt will make you look like you really know your stuff on review day.
Once you've finished presenting, you can take a deep breath and cheer on all your peers. It's always exciting to see what everyone has cooked up. The last tidbit of advice I can give is practice makes perfect! The more reviews you do, and the more you talk about your work, the better you'll be in the long run. I think that public speaking skills are very important for your future as an Industrial Designer—or a career in any other field!
After seeing what the project process looks like here at Carleton Industrial Design, I look forward to showing off a few examples of some fantastic 4th year design projects. At the end of every year, the 4th year Industrial Design students host a design showcase for their work. This year, the show will be taking place on campus from April 22-25, 2017. If you're in the Ottawa area, be sure to check it out! It is a great opportunity to mingle as a prospective student and maybe meet a few professors too. I will also be doing an article on the event as well! Stay tuned!
Stay Creative!
—Justin