April 17, 2020
Meet Mariam
---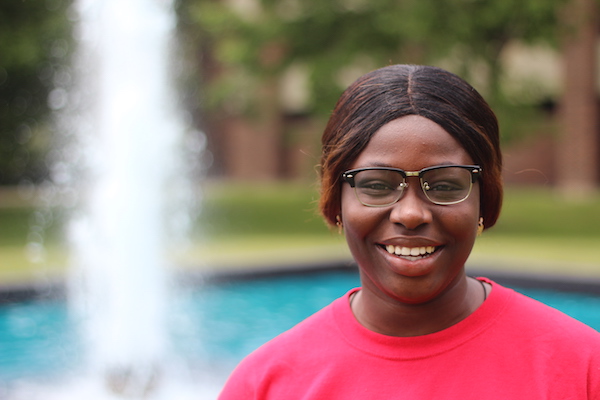 Mariam
Bachelor of Commerce student
From: Nigeria and Canada
I have always wanted to be a businesswoman. I want to use my business degree to help make this world a better place. A business degree opens a lot of doors for you.

I love [the Sprott School of Business]. You go to a lot of networking events, talk to professors a lot, and do a lot of presentations and case studies to crack with teams and friends.

As a Sprott student, you have your academic advisor to guide you. We have the business management team – they help you with your interviews. They have people there to practice with you, to give you tips and points, about how to talk to professionals and they look over your resume for you, and your cover letter. They can help you choose a concentration if necessary. We have a writing service, we have Sprott Ambassadors, someone to help you study, we have our TAs, and the professors are really nice.

The Sprott Business School Society is a lot of fun, and you also meet your classmates. They're all in your program, so from there that's how you make friends, and make connections. Before you know it, you're going to networking events together! So actually joining one or two clubs is really good. It's amazing to join clubs on campus. That's how you make friends – and from there, you never know!
Find out what Mariam has to say about Ottawa – Canada's capital!
Thinking about living in residence?
I lived in my residence for first year and I would advise all students coming to Carleton for first year to live in residence. Trust me. My first friends were from residence – they were my podmates because I lived in res with five other people in a pod (suite). It was amazing.

You do your own laundry and cleaning of course, but the food and everything else is covered. It's much easier because you don't have to think about rent or doing your own grocery shopping. You can just focus on school, your clubs and going to the gym.

Everyone should live in res for first year because that's how you get to know everyone and find your way around.
What about winter?
Was it easy to make friends?
The Carleton community
Advice for new students:
No one knows where they're going as a first year student or a new student – whether you're an international or domestic student. Trust me, you belong in that seat where you are now.

Be open minded, don't be shy, don't be afraid to speak up. Don't be afraid to talk to the next person, and if you need help, there's so much help for you – there are so many people to help you at Carleton.

Even if you're an introvert, or a shy person, just be yourself. Just because you come from another country, doesn't mean you have to change your culture. Be who you are and don't change for anyone.
Advice for students from Nigeria: