March 31, 2020
Meet Sharon
---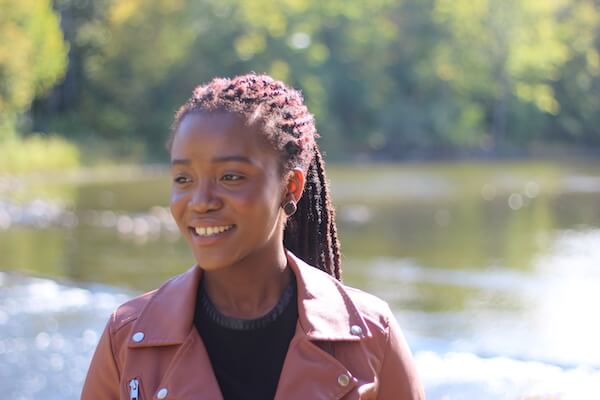 Sharon
Bachelor of Arts (Psychology) student
From: Ghana
Q: What would say has been the highlight of your experience at Carleton so far?
Sharon: The highlight of my experience so far would be volunteering with the Carleton University Student Association (CUSA). To be precise, I volunteered for the Homecoming Tailgate (2018). I got to meet new people from different parts of the world and form new valuable friendships.
Q: What attracted you to Canada, and to Carleton in particular? 
S: For me, coming to Carleton was family related because my older sister is a student too. The independence and growth my parents saw in her persuaded them to send me to Carleton. Furthermore, it was Canada's openness to different cultural groups that enticed me. It looked like a place I could study, grow, and call home. On the other hand, what really drew me to Carleton was the beautiful scenery.
Q: Can you tell us a little about your program, and what kind of opportunities it gave you?
S: My field of study, Psychology, offers mentorship programs that have helped me so much. I got the opportunity to link up with a mentor when I was all the way in Ghana. She basically makes me aware of the great opportunities I can explore as I move higher in university. Also, she has periodic sessions with me where she examines my academic and social well-being.
Q: What advice would you have for a prospective student considering Carleton? 
S: Don't be afraid to leave your comfort zone and seek support when confused or uncertain about something. Be open minded and ready to make valuable friends even if they don't look or talk like you. Lastly, have fun and make the best of your stay at Carleton University.
Q: What do you want to do with your degree/Canadian experience?
S: I want to be a school counselor with my degree. I plan on creating a viable environment where the full potential of students is groomed to make world changing impact.
Q: What have you gained from your experience here?
S: So far, I've gained great exposure and good growth in my social and mental well-being. I also got the opportunity to not just volunteer on campus but volunteer and work off-campus. For work opportunities, I gained work experience as a charity ambassador for World Vision and Canadian Feed the Children through Donorworx.
Q: Is there anything else you'd like us or potential students to know about your experience?
S:  I survived the winter! It was my first winter and boy was it hilarious and frosty. Potential students who have never experienced winter, don't worry; Carleton University has winter clothing workshops for international students. Also, the human body adjusts pretty quickly so believe this, you'll do just fine.
Q: Where are your favourite places to eat on campus? In Ottawa?
S: My favourite places to eat on campus are the river building / Richcraft Hall, the food court and Loeb café. For me, river building has a perfect view and spot to eat and relax. In Ottawa, my favourite place would be Asian Garden.