March 26, 2020
Meet Fan Li
---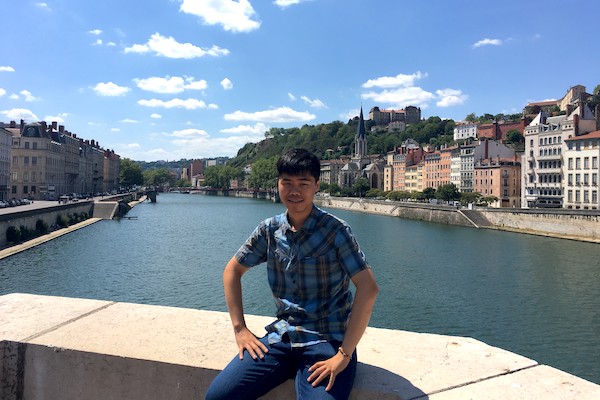 Q: What has been the highlight of your experience at Carleton so far?
FL: The experience at Carleton University has been one of the best experiences I have ever had in my life. Carleton University offers a strong presence in supporting students to achieve academic success.
I have benefited greatly from various campus organizations that truly care about their students and support their students in all aspects of campus involvement. The faculty and departments have excellent teachers and members who dedicate their time and energy towards teaching and helping.
Such as the unique co-op or practicum and internship opportunities that the university offers to give students a chance to apply what they have learned in class to the real-world to gain the necessary hands-on skills.
I have also been passionately involved in many on- and off-campus extra-curricular activities to broaden my overall university experience. For example, with my passion of sharing my culture and the Chinese language, I started and have been volunteering to teach Mandarin to a group of seven to 10 participants weekly for the past three years. I have been fortunate to join and was later selected as, the Local Committee President at AIESEC in Carleton to lead a group of 20 plus members to deliver youth exchange opportunities abroad on campus.
I have also joined departments, labs, and clubs and societies to develop various professional and transferable skills needed in the future development.
Q: What attracted you to Canada, and to Carleton in particular?
FL: Canada is a country that is proud to have multiculturalism and cultural diversity. I have learned so much from Canadian society and its spirit of welcoming and integrating. I am particularly blessed to come to Carleton University, situated in Canada's capital city.
I have fallen in love with the beautiful campus, supportive student environment, and the capital advantages. After involvement in many areas at the university, I have never changed my mind about my choice to come to Carleton University.
Q: Are there any interesting opportunities that you found at Carleton?
FL: The Career Services at Carleton University provide many international internships as a course-based opportunity to aid students' professional and personal learning. The university is partnered with seven international organizations with more than 40 locations around the world and covers every part of a student's potential career interest. For example, this summer of 2020, I have signed up for an eight weeks internship that takes place in Madrid, Spain to practice social work and understand the career implications and opportunities for my degree upon graduation through an international outlook.
Q: What advice do you have for a student considering to come to Carleton?
FL: As an international student, I understand the struggle of going abroad and coming to university without knowing anybody and adapting to a new environment. However, this is certainly your chance to shine and see how capable you are with almost no boundaries and endless potential. Stay connected and do not be afraid to ask for help, you are never alone in this journey and you are powerful beyond measure!
Q: What do you think you've gained from your experience here?
FL: My university experience has never been as superficial as to just receive a diploma. It consists of many mistakes, a lot of learning, sweat, laughter, and tears. I have further developed many transferable skills such as communication, team work, time management, critical thinking, leadership, management, and public speaking. Because of all these experiences, it has made me the person I am today – resilient, diligent, adaptable, and creative.
Q: Is there anything else you'd like potential students to know ?
FL: Just be yourself. Eleanor Roosevelt once said, "The purpose of life is to live it, to taste experience to the utmost, to reach out eagerly and without fear for newer and richer experience." And I wish you the same!
姓名:李帆
卡尔顿大学学位专业和预计毕业时间:社会工作学士学位,2021年
国籍和城市:中国,西安
高中或本土学院或大学的名称:五环中学
1. 到目前为止,您在卡尔顿大学的经历(学术或课外活动方面)
在卡尔顿大学的这段经历是我一生中最好的经历之一。卡尔顿大学(Carleton University)尤其在学生学术成就方面提供多方面的帮助。我从各种校园组织中受益匪浅,这些组织都非常关心他们的每个学生,并在校园活动的方方面面来帮助他们提高。学院和部门拥有优秀的师资配备,他们将时间和精力都专门用于教学和提供援助。例如,大学提供的独特的实习机会使学生有机会将他们在课堂上学到的东西应用到现实世界中,以获得必要的实践应用技能。
我还积极参与了许多校内和校外的课外活动,以拓宽我的整体大学经历。例如,由于我热衷于传播自己的文化和汉语教育,所以我开始并且一直自愿在过去三年中每周向7至10名参与者进行普通话教学。我也很幸运地加入,后来被选为AIESEC在卡尔顿大学的学校委员会主席,带领20多名成员在校园内向大家提供青年出国交换的机会。我还加入了不同部门,实验室,各种俱乐部和社团,以未来发展所需的各种专业技能和软性技能。
2. 是什么吸引了您到加拿大,尤其是选择卡尔顿大学?
加拿大是一个拥有多元文化和多样民族的国家。我从加拿大社会及其开放和包容的精神中学到了很多。我特别幸运地来到了加拿大首都卡尔顿大学。我爱上了美丽的校园,很友好的学生环境以及在首都的种种优势。在大学的许多领域进一步参与之后,我从未改变过当初对选择加入卡尔顿大学的第一印象。
3. 对卡尔顿特殊机会的评论(例如居住环境,独特的专业机会或实习等)
在卡尔顿大学的职业服务中心,他们提供许多国际实习机会,作为以课程为主,以帮助学生进行专业和个人学习间寻找实践机会。该大学与7个国际组织合作,在全球40多个地区都设有分支机构,涵盖了学生潜在职业兴趣的各个方面。例如,在2020年的这个夏天,我报名参加了为期8周在西班牙首都马德里的一个实习机会,目的是练习社会工作,并通过国际视野了解我毕业后的职业生涯和学位机会。
4. 您对未来考虑卡尔顿大学的学生们有什么建议?
作为一名国际学生,我知道在不认识任何人并适应新环境的情况下出国上大学的艰辛。但是,这无疑是您大放异彩的机会,来找到那不分国界和无穷潜力的个人魅力。请跟关心你的人保持联系,不要害怕寻求帮助,您在这个旅途中不会孤单。而且您无比强大!
5. 您想用您的学位或加拿大经验做什么?
未来似乎总是充满着很多不确定的因素。但是,凭借我的社会工作学士学位和在加拿大作为国际学生的经历,我坚信这些技能将是可以转移的,而我很幸运地在卡尔顿大学接受的所有培训最终将为我在当今世界上与各种世界问题着手的全球公民做好准备。
6. 您认为从这里的经历中学到了什么?
我的大学经历从未像只获得一张文凭那样肤浅,它包含着许多改错和学习,痛苦,欢乐,汗水和眼泪。我进一步提高了自己许多软性技能,例如沟通技能,团队合作,时间管理,批判性思维,领导能力,管理技能,与公开演讲的能力等等。由于所有这些经历,这使我成为现在得这样有韧性,勤奋,适应性强,和富有创造力的自己。
7. 您还有什么要对我们未来考虑卡尔顿大学的学生要说的您的经历吗?
请做您自己!埃莉诺·罗斯福(Eleanor Roosevelt)曾经说过,"做人的目的就是生活,尽可能地体验经历,热切地伸出手来,而不担心更新的和更丰富的其他经历。" 我真心希望您也可以这样!