Carleton University's Psychology program will provide you with a better understanding of the world, a deeper appreciation of the complexity and diversity of human behaviour, and knowledge of the principles of systematic and empirical investigation.
Specialize your studies according to your interests
In Carleton University's Psychology program, you will explore all of psychology's major areas including cognitive, developmental, forensic, health, social, personality and organizational psychology.
In addition, the Psychology honours program offers six concentrations for students wishing to focus on one of these major areas:
Cogntive Psychology
Developmental Psychology
Forensic Psychology
Health Psychology and Well-Being
Organizational Pschology
Social and Personality Psychology
To find out more about the Forensic Psychology concentration, view the Forensic Psychology course trailer.
Gain hands-on experience through co-op and practicum placements
Psychology students can also pair their academic studies with experience in applied environments. Students have the option to participate in co-operative education (co-op) or a practicum in community psychology.
What do students have to say about Carleton's Psychology Program?
Sasha, Psychology student with a minor in Neuroscience and Mental Health
"When I began my undergraduate degree, I was really excited to explore my interests and the variety of courses offered through Carleton's Psychology program. The courses available in the Health Psychology concentration were intriguing and an excellent fit with my future goal of becoming a clinical psychologist. The professors I have met through my program have had a significant impact on my academic journey. I also had the opportunity to complete a practicum with the Centre for Healthy Active Living (CHAL) at the Children's Hospital of Eastern Ontario, where I worked with a fantastic team dedicated to the well-being of children, youth, and families. Through this practicum, I learned about research guidelines, patient-provider interactions, and how to collaborate effectively."
Chelsea, Psychology student with co-operative education
"Participating in co-op was an invaluable decision that both enhanced my university experience and solidified my future career plans. It has given me practical insight into career opportunities within the psychology field and many professional connections. By working as a Career Coach with Carleton's Career Services, I had the chance to refine my interpersonal skills, and I learned to integrate a psychological lens into my interactions with students as they make important decisions about their job search, career paths, and education plans. Co-op has equipped me with important skills and experiences that have prepared me for graduate school and beyond."
Tarek, Psychology student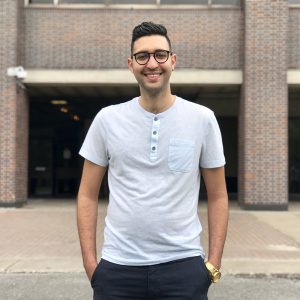 "When applying to universities, I was looking for a program that would improve my understanding of human health factors, and a campus that was close enough to my home city of Montreal. The Psychology program at Carleton University offered me precisely that and more. The health-related Psychology courses and the opportunity to work in Carleton's Health Psychology lab have given me the chance to learn transferable skills from experts in the field. These experiences have provided me with a stronger understanding of topics with significant relevance to public health, such as the opioid crisis, diabetes, and depression."
Learn more
The insights you will gain from studying psychology will serve you throughout your life, in virtually any career. Learn more about studying Psychology (BA) and Psychology (BSc) at Carleton University.